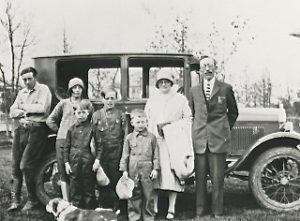 No college student ever completes their education without assistance—assistance that is tangible, real, visible, and often unseen. Most students make it through their educational experience with financial support—and scholarship support can make all the difference in a student's experience. More than 23 Augsburg students have received scholarship support through the Reverend John Hjelmeland Scholarship endowment and know this first hand.
Aware of the essential need for scholarship support for students, the Hjelmeland family created an endowed scholarship fund in 1986 to honor its patriarch, Reverend John Hjelmeland.
Reverend John Hjelmeland was the first of the Hjelmeland family to arrive in Minnesota. He left Norway to follow the call of the Lutheran Free Church and the promise of the Augsburg seal: Through Truth to Freedom. He became a student at what was then known as Augsburg Theological Seminary from which he was graduated in 1911. As a Lutheran minister, John went on to serve congregations in the Midwest and West. His influence infused the whole family with a love of the Lutheran traditions of service and stewardship.
John's son, Sigvald Hjelmeland, was the next family member to graduate from Augsburg, class of '41. In 1952, he was invited by then president Bernhard Christensen to return to Augsburg and raise money for the building of a library. Through his efforts and the generosity of many donors, Augsburg exceeded its goals for the library fund drive in 1955. Sig played a role in establishing the first development office at Augsburg. Over the next 30 years he worked to raise funds for the college. Major campaigns he led included the completion of the George Sverdrup Library, Christensen Center, Urness Hall, and Foss Center.  He retired in 1982 and remained engaged with the college. He was awarded the Spirit of Augsburg Award in 2003. He died at age 90 having lived a full life in the spirit of the call.
Many other family members have attended and graduated from Augsburg including Sig and his wife Helen's daughter, Laurene Hjelmeland Clarke '64; son John '70 and his wife Lynn Benson Hjelmeland '69; and granddaughter, Jennifer Hjelmeland '00.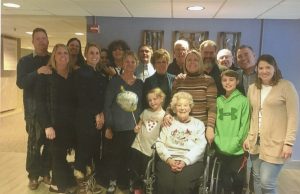 The scholarship fund was established with two kinds of students in mind. It gives awards to immigrant students who continue the long tradition and value of the college to serve the immigrant; it also funds students from legacy families like theirs.
The family continues to add to the scholarship endowment and expand the impact and legacy of the first Hjelmeland who came to America so long ago to combine faith and freedom through an Augsburg education.