Kristen Lindvall, PA-C began her PA journey with Augsburg after graduating from Gustavus Adolphus College. She completed her PA education in 2012 and then secured a job in general surgery with HealthPartners. Her experience at HealthPartners is characterized as a highly intense surgical practice with an emphasis on complex patient management. She served as a preceptor for many students rotating through their general surgery rotations. This past fall, Kristen returned to the Augsburg PA Program full time as a Clinical Assistant Professor. Annually, Kristen travels down to Haiti for surgical mission work and reflected on her most recent trip. 
---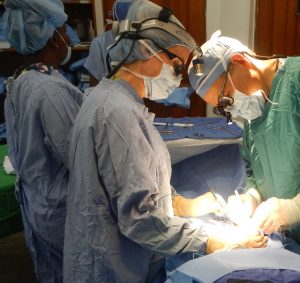 This is my 5th year spending a week helping the people of Haiti through surgical mission work. This year, our team performed 82 cases ranging from appendectomy and hernia repairs to C-sections and thyroidectomy.The pathology is advanced, the patients have gracefully suffered while awaiting treatment, and the work is always incredibly rewarding.
There have been some recent criticisms of short term mission work. Criticisms have revolved around mission "voluntourism" relating to a lack of cultural understanding and performance of work for personal gain rather than true engagement in a community's needs. I think healthcare is a great exception to this. We have specific skill sets, skills that are otherwise not present in third world countries, and we can directly impact these people by improving their quality of life immensely. The needs in the developing world can be overwhelming. It can feel impossible to make a dent in the problem. The focus, as always, needs to be on our individual patients and the life changing care we give. Although this is "short term" mission work, the impact on our patients is far from short term.
I would challenge everyone to remember why you became or are becoming a PA. Although needs at home certainly exist, consider expanding your practice globally. The need abounds. It will change you as a person and as a provider, you won't regret it.