It's been a busy summer for the Augsburg PA program! Many notable events and updates occurred in the month of July.
Yesterday we welcomed new program manager Conrad Carlozzi! Conrad previously worked for Project for Pride in Living in various roles. The department is excited to have him join our team. Stay tuned for more about Conrad and what brought him to Augsburg PA.
We are excited to announce that Eric Van Hecke, PA-C has moved into a full-time faculty position. When he initially joined the team earlier this year, he expressed his commitment to assisting students to develop into dynamic, professional and competent medical providers in a constantly changing clinical environment.
Augsburg University hosted the Urban Scrubs camp at the beginning of July. This week-long day camp allowed high school students to be exposed to 25 different careers in healthcare. The PA program closed out the last day with hands-on demonstrations of splinting. Current PA students, staff and faculty helped students learn exam skills and how to splint an arm.
As second-year students transition into the clinical phase, they are diligently working on master's projects. During their second summer in the program, students have the opportunity to conduct independent research to answer a specific question. Students may also elect to complete a course within Augsburg University's Master of Arts in Leadership, Masters in Business Administration or Masters in Music Therapy departments. Our PA students also have the chance to participate in a range of experiential learning courses within local and international communities.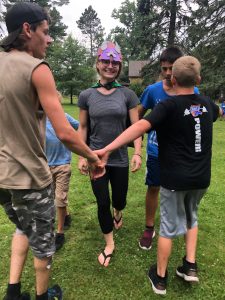 For yet another consecutive year, a student accompanied adjunct faculty member and Augsburg PA alumna, Skye Peltier, PA-C to Children's Minnesota and the Hemophilia Foundation of Minnesota/Dakotas pediatric camp for patients that have hemophilia and other chronic bleeding disorders. Chelsea Johnson, PA-S2 is seen on the right as a captured dinosaur while playing dinosaur break with camp attendees.
A group of 19 made their way down to Costa Rica with Medical Director Holly Levine. Students are encouraged to develop their own perspective on what universal responsibility means to them and how they integrate it into their career. Throughout the course of 12 days, students visited important sites relevant to government, healthcare, and social services. The group immersed themselves into local communities and participated in cultural experiential learning. A highlight of the trip was hearing personal stories and experiences of Nicaraguan and Venezuelan immigrants.