The twenty-third cohort of the Physician Assistant Studies program graduated at the end of August. These students have successfully made it through 27 months of didactic and clinical training. The ceremony took place at Hoversten Chapel on Friday, August 23rd and was an excellent commemoration of the students' path leading them to this point. Graduates were addressed by several individuals including Commencement Speaker Vinh Dang, PA-C and Student Representative Nathan Kleppe.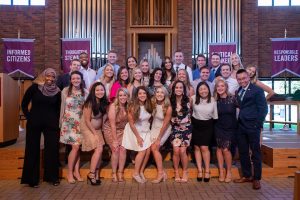 Vinh Dang earned his undergraduate degree from Hamline University, Masters of Physician Assistant Sciences (MPAS) degree from St. Francis University in Pennsylvania and completed a surgical residency program with Yale University and Norwalk Hospital in Connecticut. He began his orthopaedic career in 2002 with Sports & Orthopaedic Specialists. He provides sub-specialized continuity of care for shoulder, elbow and sports-related disorders. Currently, he assists in surgery and sees consults and established patients in clinic. He is a mentor to undergraduate and PA students while also serving as an adjunct professor and preceptor for local PA programs. Furthermore, Mr. Dang has published peer-review articles for the PA profession and provided many lecture presentations at local, regional, and national conferences. In 2017, Vinh was accepted as a Distinguished Fellow of the American Academy of Physician Assistants (DFAAPA). To date, less than 1% of actively practicing PAs have achieved this honor. To be considered a Distinguished fellow, a PA must be in practice for at least 12 years and demonstrate distinction in medical practice, education, research or healthcare management, leadership in medicine and healthcare, professional involvement, commitment to lifelong learning and community service.
Vinh opened up his address by reminding students to thank those that helped them along the way. He noted that commencement is a day well deserved of family and friends since they've supported students through their journey. Vinh requested that students be grateful for their staff always. "Thank your staff before the day starts AND after the day ends. You are not possible without them. Help out – clean rooms, clean instruments, empty sharps bins. Various little things. We are not above anyone else."
He then urged students to remember the emotional quotient component in addition to the science. Building rapport with patients is looking at their faces instead of hiding behind a computer screen. Vinh says, "You will instantly receive a smile from that patient," if you remember something from their life the last time they were in. Patients will share their story and PAs need to listen. By being honest with a patient that you may not know something, it demonstrates to them that you are human. If you respond that you are unsure, but you'll look into it and get back to them, then the patient knows they are being heard. As a career progresses, graduates will learn how to marry the science with the art of treating patients.
Vinh encouraged graduates to provide for those who have too little and think beyond a financial contribution. "Think about being a mentor, return to Augsburg and teach a class, adopt a pet, adopt a child, volunteer." As a PA, the graduates possess wisdom and intelligence worth sharing with the next generation. Pay it forward in the same way that "you would not be here today without the volunteers, professors, mentors who have paved the way before you. No one can do this alone."
Elected by his peers, Nathan Kleppe gave the student address. Nathan remarked that "time is a funny thing." Just getting into PA school requires dedication and time spent building patient care hours, enrolling in prerequisites and then focusing on the application. Once admitted into the 2019 cohort, a whole new set of challenges arrived. Countless hours would be spent in lecture and lab preparing them for a year of clinical rotations. He recounted one of the first days of class: "When we were all still in a daily controlled panic, Dr. Batten calmed us down and encouraged us by telling us to just enjoy the process. He reminded us that we have been given this amazing opportunity to be in school – and learn as much as possible – so that one day we can go help people."
Now the transformation from student to a provider is official, but that does not mean that the learning ends. Since healthcare is ever-changing and each patient is unique, there is no room to become comfortable. The PA license alone requires 100 hours of continuing education every two years and recertification every ten years. Nathan called upon his peers to "continue to be a student of medicine who always strives to become better so that we can serve our patients."
Another highlight of the ceremony is the presentation of the Clinical Preceptor of the Year Award. Graduates Amina Iman and Rachel Gratz both nominated Dr. Farhiyo Abdulle for her outstanding teaching, encouraging words and including them within the healthcare team. Dr. Abdulle is an OBGYN physician with Allina Health and has precepted several PA students on rotation. Upon receiving the award, she commented that the students have in their own way made her a better provider. It is her own personal health goal to be a good example and be a compassionate, hardworking provider.
Congratulations to the newest Augsburg PA alumni! We are proud to call you our colleagues.