We are proud to announce our winner for the Dawn Ludwig Legacy Scholarship for 2022: Megan Knoll!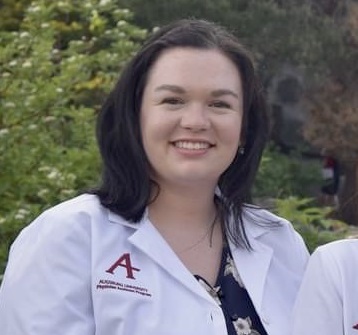 The Dawn Ludwig Legacy Scholarship was established to honor the legacy of the first Augsburg PA Program Director, Dawn Ludwig. The intent of this scholarship is to recognize, encourage and provide financial support to a Physician Assistant student in their final year of study. The Dawn Ludwig Legacy Scholarship is awarded to students who show academic achievement and financial need, and who have exhibited the positive qualities and spirit that Dawn demonstrated and taught throughout her career, including professionalism, leadership, community engagement and service, commitment to family and faith, clinical aptitude, and a personal conviction to "do what's right for its own sake".
Megan has demonstrated great skill in the academic courses in her time here with Augsburg University, and she has an aptitude for putting her heart into all that she does. When looking into the scholarship she mentions the importance of doing what she can for the community, including setting up and leading free and educational health screening events. Megan goes on to say:
"I will not always be right, but I will "do what's right for its own sake". I accept that I will not always know every answer, but I know that I can seek the help and expertise from my team and use my skills in research to find the solution. The most exciting part of this field is the lifelong learning and discovery that comes with it. Once established in my practice, I plan to pass my knowledge and skills to students as a clinical preceptor and be a spokesperson for recruiting providers and nurses in underserved regions."
We are proud to have Megan in our class of 2022 and can't wait to see what she will accomplish as she carries out the legacy of Dawn Ludwig in her time as a PA student and as a future PA in rural regions. Congratulations, Megan!