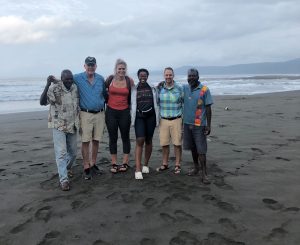 A few years ago, Mark Johnson '75 updated his estate plans to include Augsburg. He wanted his estate gift to honor Professor Joel Torstenson, the "father" of Sociology at Augsburg who started the Metro-Urban Studies program at Augsburg in 1971. Mark was one of the first students to graduate from Augsburg's Metro-Urban Studies program, now called Urban Studies. He also went on Augsburg's first Scandinavian Urban Studies Semester trip to Oslo, Norway. Mark's gift will fund a professorship for faculty in the Urban Studies or Sociology departments.
Mark has been very involved at Augsburg since graduating in 1975. Along with joining the Board of Regents, Mark has been in constant contact with the Urban Studies and Sociology departments. And his connection has gone above and beyond monetary gifts.
"Community involvement is important," Mark said. "My job was a chance to encourage people to reach out beyond themselves and to seek ways to be a bridge builder of relationships."
As Mark witnessed the impact of quality faculty in today's educational environment, he wanted to support the transformational effect of an education rich in experiences. This is why he started the Torstenson Scholars in 2015.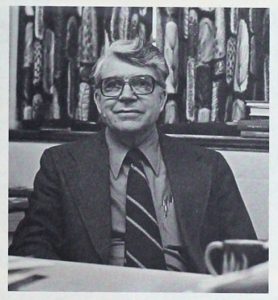 Joel Torstenson came to Augsburg as a history major from rural West Central Minnesota. After graduating in 1938, he worked in education for farmer's co-ops. He began teaching part-time at Augsburg upon earning a master's degree in history and sociology. During the war years, he became involved in the peace movement and participated in establishing a cooperative farm community, which led to employment with Midland Cooperatives as an educational director and community organizer. In the fall of 1947, President Christensen invited him back to Augsburg to develop its programs in social work and sociology while completing his doctorate in sociology at the University of Minnesota.
Today, the legacy of Joel Torstenson lives on through the Torstenson Scholars program, sociology and metro-urban studies majors, the Strommen Center for Meaningful Work, HECUA, and the college-wide "Engaging Minneapolis" requirement. Torstenson's work also gave birth to the college-wide requirement that started as the "Urban Concern," which was succeeded by the "City Perspective," and is now known as the "Engaging Minneapolis" requirement.
Students in the Torstenson Scholars program are financially supported for one academic year, which includes a research trip with the Sociology or Urban Studies department. Mark's funding has been used in four significant trips: a research trip to Vanuatu in September of 2018; two research trips to Williston, North Dakota, in 2017 and 2019 to study the effects of the oil boom on a small town; and a community research project in Two Harbors, Minnesota, Mark's hometown.
As a Regent, Mark came to understand the significant positive impact of philanthropy at Augsburg.
"The question always has been: How can we manage change for the good of all?" says Mark.
He didn't want to wait for the day when the estate gift would arrive at Augsburg's door. Instead, he decided to launch the Torstenson Professorship now so he can actively participate in the things that will be supported by gifts in his estate plan. Mark also wants to encourage his fellow Auggies to join him in honoring Professor Torstenson.
Mark has seeded the endowed professorship fund with a gift of $50,000 and an available match of another $100,000. He hopes others will join him by giving to the fund to remember Joel's legacy.
"Joel touched many lives and I think a contribution to the professorship is a great way to commemorate that. All contributors to this fund – a small gift or large gift – will be acknowledged equally," says Mark.
Until the endowed fund reaches $250,000, Mark is funding the professorship annually.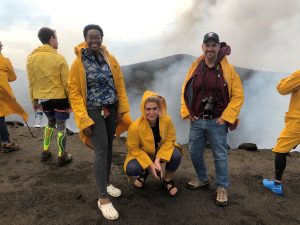 "We are so grateful to Mark Johnson for his generosity and vision in honoring the Torstenson legacy at Augsburg with this professorship," says President Paul Pribbenow. "It is particularly meaningful to me that Professor Tim Pippert will be the first incumbent of the Torstenson Endowed Professor. I have had the privilege to teach with Tim and to witness his commitment to our students."
Professor Timothy Pippert joined the Augsburg faculty in 1999.  He holds bachelor's, master's, and doctoral degrees from the University of Nebraska-Lincoln. His teaching interests center on family systems, juvenile delinquency, homelessness and affluence, statistics, research methods, and race, class, and gender. In 2011, he received the Distinguished Contributions to Teaching and Learning – Excellence in Teaching Award.
If you would like to donate to the Torstenson Professorship, or are interested in funding a new professorship, please contact Amy Alkire at alkirea@augsburg.edu or 651-323-4844.