A Master of Business Administration degree is one of the most reliable graduate degree programs as it opens doors to endless high-paying career opportunities. You can apply your education from an MBA degree program to data analytics, leadership, finance, economics, marketing, and health care industries, or even opt to take the entrepreneurial route, well-equipped to launch and manage your own business.
The Augsburg MBA program is 26 months in length and is optimized to best prepare you for your future career by providing skills such as critical thinking, analysis of marketing and economic trends, and the ethics of working in team settings.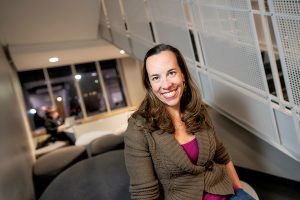 Choosing the perfect MBA program can lead to a fulfilling career with earnings of anywhere between $85,600 and $189,000. With a master's in business administration, starting salaries are often much higher than in other types of careers with a simple bachelor's degree.
Currently, some of the highest-paying jobs for MBA graduates are product managers, management consultants, marketing managers, data analytics managers, and financial managers. Read on to learn about the best MBA jobs, fastest-growing fields, and top industries for MBA graduates.
MBA Graduates in General Management
Earning an MBA in general management actively equips an individual with all the necessary skills to perform management tasks in an array of fields. Why the emphasis on "active?" MBA programs are not meant to be lecture-centered or to passively provide knowledge. Instead, an MBA student studying general management should expect to be thoroughly engaged in coursework that will expose them to what is needed to run a company.

Some jobs for MBA graduates to consider after earning your degree are:
Enterprise management
Management for companies with international offices and/or staff
Business consultant
Data analytics manager
Finance manager
The most important skills you will gain from your MBA in general management will be the ability to work proficiently as an individual and in a team setting, analyzing data, implement critical thinking skills at all times, and—perceivably one of the most crucial skills—networking.
Chief Operating Officer
Also referred to as the chief executive, the chief operating officer has several duties that place them as a high authority in the workplace.
As a COO, you will perform company organizational duties such as coordinating funding and maximizing company investments. This can include delegating responsibilities to department heads and managers, performing analyses of company and staff performance, and overseeing and directing general business activity such as policy implementation and development of company goals.
A COO needs to have a thorough knowledge of the principles of business administration and management, procedures by which to perform human resources tasks (especially interpersonal communication), customer service, and legal knowledge of issues related to the company and company activities. The application of this knowledge is partially manifested through office tasks such as e-mail and telephone communications, decision-making, problem-solving, and independent time management.
Average salary: $91.15 hourly, $189,000 annually
Career outlook: -2% or lower (2018–28)
Recommended MBA degree: Leadership concentration
Vice President
Although they are somewhat similar in responsibilities and daily work structure, a company's vice president is distinct in its role from the COO. The VP is normally second or third in command (whereas the COO would be first) and functions fundamentally as a manager.
The VP has oversight of all individuals that work within the company as a manager in any capacity (i.e., an employee to whom other employees report). The VP's role can be specified to one department or unit within a company.
For example, an automotive company's vice president working in their assigned unit may oversee all operations related to the manufacturing of the vehicles. This role does not encompass the function of the entire company, but it does encompass all activities within that department.
Signing and interpreting legal documents, contributing to the development of the company mission, values, and goals, and leadership of assistant VPs, managers, and directors are all core functions of the vice president.
MBA Graduates in Financial Roles
A graduate degree with a concentration in finance is often a safe choice as there will always be a need for the management and distribution of currency throughout the world. In fact, this field consistently has some of the fastest-growing careers at some of the best companies for MBA graduates. Popular careers you will have to choose from with an MBA include:
Investment banker
Financial advisor
Chief financial officer
Financial analyst
Depending on your career choice you may need to earn additional certifications. For example, if you choose to work as an investment banker, you are not required to get additional certifications, still, it is highly recommended that you obtain a Certified Investment Banking Associate certification from the Investment Bankers Group.
On the other hand, as a chief financial officer, there are no certifications or licenses available. For a CFO, the equivalent of licensing is simply obtained through years of experience.
Some responsibilities of these roles include the management of bonds, developing and executing investment strategies, and general financial decision-making and advising.
Chief Financial Officer
The job of a chief financial officer, among the fastest-growing finance careers, is similar to that of the financial manager as described by the U.S. Bureau of Labor Statistics: This individual is expected to prepare paperwork (statements, invoices, reports, forecasts), supervise employees in the appropriate department(s), review company financial activity and innovate methods by which costs can be reduced, and analyze marketing trends.
As a chief financial officer, you will have to remain up-to-date on technological advances that influence the efficiency with which company goals can be met (and therefore influence costs of production or service). Depending on the industry, a CFO may also be expected to be knowledgeable of specific legislation regarding company activities.
There are many different types of CFOs, treasurers, credit managers, and insurance managers, all who have a similar foundation of purpose, yet specific tasks unique to their field. Although you can expect the general framework described above, there will likely be additional, specific tasks that vary per role.
Average salary: $127,990 annually
Career outlook: +16%, 2018–28
Recommended MBA degree: Finance concentration
Senior Financial Analyst
A financial analyst is not necessarily in a position of authority, but is a key employee in the decision-making processes and investment procedures of the company. As a financial analyst, your daily workflow would include recommendations of investments and collections of said investments, evaluation and analysis of historical financial data, regular study of current economic trends, preparation of written reports, and meetings with company officials for financial planning.
Financial analysts, also referred to as securities analysts or investment analysts, can work in banks, pension funds, insurance companies, and so much more.
There are two main types of financial analysts. There are those that work on the buying side and those that work on the selling side. You'll most often find buy-side analysts in hedge funds, insurance companies, nonprofit organizations, and similar institutions that have a primary focus on investment. Sell-side analysts, on the other hand, work with companies focused on selling stocks and bonds.
The average MBA salary for a financial analyst is below.
Average salary: $85,660 annually
Career outlook: +6%, 2018–28
Recommended MBA degree: Finance concentration
Other High-Paying Fields for MBA Graduates
With your MBA degree, you are incredibly well-prepared for your job search. You not only have work experience behind you, but also at least two years of practical training and applicable coursework that has prepared you for the demands of a managerial or leadership position.
Currently, many of the highest-paying MBA jobs are ripe for the taking—specifically for positions as a management consultant or product manager. Marketing and financial managers are also in high demand right now; something to consider when choosing your degree program or future industry.
Marketing
An MBA in marketing is almost as versatile as an MBA in general management. With this degree, you will be primarily focused on development of skills that are foundational to the development of sales of products and services, learning to effectively compete in your industry, and monitor marketing trends of your industry.
With an MBA in marketing, you will acquire a number of specialized skills such as strategic planning, market research, campaigning, consumer behavior, and analysis of demand.
The beauty of the MBA marketing degree is that you can choose to apply it to a career in a company that is already well-established in a given industry, or you can readily apply your education to entrepreneurial endeavors.
Some of the top companies for MBA graduates include Ernest and Young, J.P. Morgan Chase, and General Electric. A few of the top five fastest-growing careers in marketing are:
Public relations specialist
Market research director
Sales manager
Health care
Nearly every job in the health care industry requires intense delegation, managerial, and communication skills. With your MBA in health care management, you could work in several different capacities in health care. Often, graduates work their way into health care administration and other related health care jobs. There will be numerous options available to you, all in different settings, including emergency clinics, small, private clinics such as dentist offices, insurance agencies, and so much more.
You may still have to work your way up from entry-level jobs for MBA grads to reach some of these esteemed positions; however, that should not be a deterrent. With the proper professional and academic background, someone with an MBA in health care management has access to endless opportunities. A few examples of some of the fastest-growing medical careers for MBA graduates are:
Hospital administrator
Health and social service manager
Manager of patient safety
Finding the Right MBA Job With Your MBA
Earning an MBA in general management may be a practical route for your future career, regardless of what field you find yourself in. There are a plethora of career opportunities available to you with an MBA—so much so that you can tailor your education to nearly any position you aspire to.
You'll hardly have to wonder about how much MBAs make, as your degree makes available to you some of the fastest-growing professions secured by a consistently high MBA salary—even across industries.
Any institution with employees or volunteers that handle finances or documentation of any sort and communicates with, or otherwise serves, the general public can benefit from professional leadership. Salary, job description, and projected industry growth should be considered when choosing your future career. With this guide, you can carve out your own path.
The future of MBA jobs is greatly promising as it is home to many jobs with the highest growth rates in their respective industries. As you sift through specializations and consider your options after graduation, you can remain confident in your choice to pursue an MBA career.
Learn more about how you can advance your career with a Master of Business Administration from Augsburg University. Explore our blog or request information about Augsburg's growing hybrid MBA program. The best way to learn more about the Augsburg MBA program is by attending an information session.
Ready to apply now? Get started today.