As we near the summer semester, second year students in the Class of 2019 are preparing to start their Master's Projects. This opportunity allows them a choice to pursue a topic of interest to them. They may direct their own research and develop a paper based on a specific research question.
Students may also elect to complete a course within Augsburg University's Master of Arts Leadership, Masters in Business Administration or Masters in Music Therapy departments. Our PA students also have the chance to participate in a range of experiential learning courses within  local and international communities. During the 2017 summer course, students could be seen in China, Nicaragua, local community clinics and at summer camps volunteering their time while learning about current healthcare issues.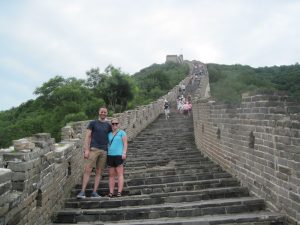 In partnership with the Masters in Music Therapy program and the Center for Global Education and Experience, two of our students from the Class of 2018 traveled to China to volunteer at Chongqing Burn Camp for children who have sustained severe burns. Not only were these students immersed in another culture, they were exposed to a new discipline being used in healthcare. They learned the history of music therapy, discovered a new culture and expanded their knowledge of therapies. While at the camp, Maria Cook, PA-S2, remembers being "able to partake in music therapy sessions with the children and witness first-hand the positive effects music can have with their ongoing recovery." As a result of her experiential learning course, Maria decided "to study the effect of music therapy on pain and anxiety in pediatric burn patients."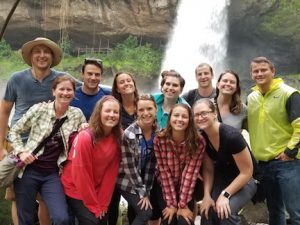 The Augsburg PA program is also fortunate to partner with the Master of Arts in Leadership and Center for Global Education and Experience to offer a short-term study abroad course in Managua, Nicaragua. During this experiential learning course, students are encouraged to develop their own perspective on what universal responsibility means to them and how they integrate it into their career. Students visit important sites relevant to government, business, healthcare, social services, education as well as the arts. Will Ryan, PA-S2 recalls visiting Casa Alianza, a home for street children between the ages of 13 and 17. There he noticed the children possessed such energy and joy despite their circumstance. His takeaway was that although the children had far less than those in the United States, they taught him to not get caught up in the little things and instead enjoy what we have.
Many of our faculty practice clinically outside the classroom, including Professor Jenny Kluznik, who is a PA at Family Tree Clinic in St. Paul, Minnesota. Family Tree Clinic commits itself to providing education to maintain and improve overall health of the patients they serve. Last summer, Emma Hermes, PA-S2 worked with the clinic "to develop a patient education and screening tool to aid in making patient-centered decisions of when to begin mammography breast cancer screenings." Emma says that "today at [Family Tree Clinic], every patient age 40 and older receives the brochure upon check-in and completes it while waiting to see their provider. The provider then discusses any concerns and questions with the patient and together decide on a mammogram screening plan."
At Augsburg PA Program, we are fortunate to have alumni return as adjunct faculty, one of which is Skye Peltier, PA-C. When not teaching our students, Skye is a hematology provider with Children's Minnesota as well as M Health. Each summer, Children's Minnesota collaborates with the Hemophilia Foundation of Minnesota/Dakotas to put on a camp for pediatric patients that have hemophilia and other chronic bleeding disorders. Amity Carlson, PA-S2, had the opportunity to join Skye for the summer camp to aid in her research of pediatric pain management. One important goal of the camp is to teach campers how to do their own self-infusions. Amity observed that the "older campers took the younger ones under their wings to show them that infusions can be just another part of the day. These mentors gave the young campers lots of encouragement and support."