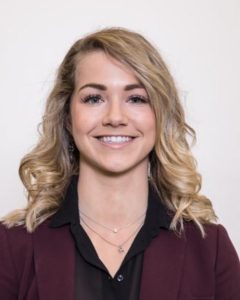 Rachel Gratz, PA-S2, has a lot to celebrate and look forward to in 2019! She recently found out she is one of 19 students being awarded the 2018 Health Professional Scholarship Program (HPSP) from Veterans Affairs. Veterans Affairs gives out the scholarship with the hopes of increasing the supply of PAs within the VA but also for the nation. Across the country, over 800 students applied for education support while also making a commitment to serve for two years as a PA with the VA.
Everyone has their own story to pursuing a career as a PA. For Rachel, she has always been dedicated to doing things for others. From a young age, she was volunteering anywhere she could and even donating her allowance to sponsor a girl in Brazil. Her passion evolved over the years as she worked in nursing homes, hospice care, assisted living and mental health. "The accumulation of these experiences and my degree in Biology ultimately led me on the journey to the PA profession," says Rachel.
Most students who enter PA school quit working full time due to the rigorous academic work load followed by their clinical education. Students most likely take out substantial loans to cover the cost of tuition as well as living expenses while they are in school. Rachel tries to pick up odd jobs to help her pay down debt while in the program, but the financial burden is always there. While some scholarships and loan forgiveness programs exist, it is a competitive arena. A simple web search brought her to the VA.
For the HPSP, qualified applicants had to be accepted or enrolled in a Master's of Science in Physician Assistant Studies, as well as a U.S. citizen. The extensive application included three essays, two letters of recommendation and academic verification. Over the next month, Rachel waited to find out if she had been accepted. During that time the selection committee considered her academic performance, professional work experience, letters of recommendation and her future career goals. A few weeks later, Rachel received an email announcing her selection as one of the 19 recipients.
Rachel says she decided to apply because "I think [the veteran] populations is incredibly underserved [and] being able to give back to the brave veterans who have fought for this country that I get to freely live in and help reduce the obstacle of access to their care is honorable." Now that Rachel has accepted her scholarship, she feels "empowered to approach my remaining education with more confidence." She believes that the VA will provide a solid foundation that will facilitate her professional growth.
The scholarship terms include that Rachel serve as a full time clinical PA within the VA for at least two years and be willing to relocate. This opportunity excites Rachel as she dreams of living in the Pacific Northwest. Portland, Oregon is a place where she can envision herself working and living because of the "generous community, creative innovators, funky vibes, farm-to-table cuisine … forest hikes [and] close proximity to both the ocean and mountains." New Mexico, Washington, Colorado or Utah are also at the top of her list as she admittedly loves the west. Prior to her graduation, Rachel will be able to inform her recruiter of her top five locations as well as specialties she would like to work in.
The Augsburg PA Program looks forward to catching up with Rachel after her graduation to hear about her experience with the VA!