Each year, Augsburg University awards one of our preceptors with the Clinical Instructor of the Year. This award celebrates the positive impact a professional clinical preceptor has had on our students throughout the course of the clinical rotations. This year, our clinical instructor took multiple students and allowed them to perform the first of many procedures they would need to do throughout their careers as PAs. All of our clinical instructors are valuable for the rotations because it gives students a chance to get hands-on experience with patients that will give them the tools for future practice. Our preceptors follow the same approach as medical training, including the "see one, do one" approach for clinical procedures.
Augsburg University is proud to award the 2022 Clinical Instructor of the Year award to one of our 1999 alumni: Anthony Lesch.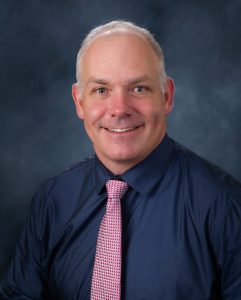 Anthony Lesch completed an undergraduate degree from St John's University in Collegeville, MN where he also played football and baseball, and earned his Masters in Physician Assistant Studies from Augsburg University. While most of his employment history is with Stellis Health in Family Practice, he spent 2 years in Arizona while his wife worked in health care administration. While there, Tony worked in family practice on Luke Air Force base in the Emergency Department at Goodyear Hospital.
Currently, Tony is on the executive board at Stellis Health as a representative for the advanced practice practitioners. He also spent time in the CVOR and Cath Lab. Tony enjoys spending time with his family, including his four children, and dogs. He also enjoys outdoor activities such as hiking, biking, golfing and boating.