Our 12 partner congregations gathered for a third learning event this February. This group began together in July 2021 with a launch event to build community and introduce key ideas about the call to be public church. In the fall, an Interdisciplinary Developmental Inventory (IDI) training was offered to congregational teams to develop a posture of cultural humility. This was followed by a hybrid event in October where teams focused on ways to practice accompaniment in their neighborhoods.  Accompaniment is simply the big and small ways we set out to hear our neighbors' stories – to hear how they are experiencing bad news and good news in their lives. Congregational teams have spent the last handful of months learning about their neighborhoods and listening to their neighbors in a variety of ways.
This most recent gathering on February 5, brought us back together to continue our vocational discovery work together by introducing the second artform of the public church framework – interpretation. Our current public safety realities prevented us from gathering together at Augsburg, but we still found meaningful connections during our online Saturday morning session. We learned some new technologies to enhance our online conversations and stayed cozy with hot chocolate, tea and the companion of our pets from home. We reflected on key themes congregations are hearing from their neighbors in their accompaniment work and we began to explore and name our key beliefs and theological convictions to aid our interpretive work. You can read more about what these interpretation questions sound like in  this blog post by Congregational Facilitator, Amanda Vetsch.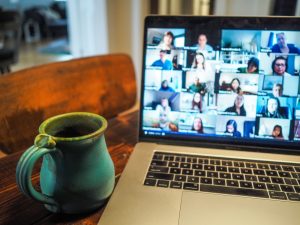 Our questions and conversations together set the table to begin wondering…
What does God's story have to say about the stories we are hearing from our neighbors and vice versa?
How does what we are hearing from our neighbors connect to God's hopes and dreams for our world, our neighborhood, and our neighbors?
Continue reading "Riverside Innovation Hub Congregations Gather & Learn Together" →