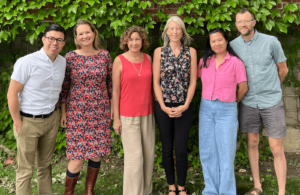 The Center for Wellness and Counseling offers programs and services to support the health and well-being of Augsburg students. CWC embraces a holistic concept of health, with an emphasis on mental health. CWC staff work in partnership with students, faculty and staff to promote student development, well-being, and academic success for a diverse student body.  CWC provides short-term, confidential, strengths-based counseling, from a stance of cultural humility which seeks to honor each student's goals, cultural background, and identities.  CWC also offers wellness educational programs for Augsburg students.
CLIENT PORTAL
All students using CWC services will have access to a confidential client portal where students can do paperwork, access telehealth if needed, and use secure messaging with CWC.
To log in to the client portal click here (https://augsburgcwcportal.pointnclick.com/home.aspx) and login with your Augsburg username and password.  Then when prompted, enter your birthdate.
To schedule a counseling appointment:
Call CWC at 612-330-1707   OR
Send an email to cwc@augsburg.edu (please include the times you are available during weekdays for an appointment) OR
Stop by and visit us to schedule at the front desk (Anderson Residence Hall, 1st Floor, near the East door); office hours 8am to noon and 1pm-4:30pm Monday through Friday
Counseling services are available in person or on Zoom.  Rooms are available to reserve at CWC if you would like to Zoom with your counselor from a private space.
Fall 2023 Walk In Hours (for a brief meeting to address a specific concern):
Mondays 1-3pm
Wednesdays 1-3pm
Thursdays 1-3pm
When CWC is closed, 24/7 urgent phone counseling is available to Augsburg students (just call 612-330-1707 and choose Option 1)
MiResource   Referral Database of Mental Health Providers in the Community
612-330-1707
                      Anderson Residence Hall — First Floor