Phone:  612-330-1707            Confidential Fax:  612-330-1539
The Center for Wellness & Counseling is located on the first floor of Anderson Residence Hall (either enter by the East door, and find the Center on  your left; or use the accessible front entrance of Anderson Hall and take the first door to your left, go down the hallway, and find us on your right).
Office Hours:  8am – 4:30pm Monday through Friday Fall and Spring Semesters (closed during breaks and summer)
Not sure who to contact?
Phanny Phal — contact for appointments and general questions about CWC services
Ellie Olson — contact for program requests, concerns about a student, and any other inquiries
Beth Carlson — contact for feedback about the content of the CWC webpage
meet our staff: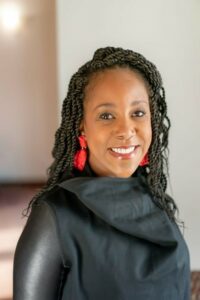 I am an Augsburg Alum! I completed my bachelors degree in Psychology at Augsburg and completed my Masters Degree in Marriage and Family Therapy at Northwestern University in Evanston, IL.  I am deeply connected to working with populations within community mental health and specifically higher education.  Let's talk about healing…what are we struggling with that is our responsibility to heal and what might we be carrying that was passed onto us? Giving yourself the grace and compassion to heal is one way to change the dynamics of our interactions with others as well as our relationship with ourselves. Holding space for people to explore the impact of mental health on their own life is the central focus of my work.  I most enjoy working in mental health within a higher educational setting because there are so many students coming to therapy for the first time.  For many, they are the first in their family to reach out for mental health support.  That takes a lot of strength and I recognize the honor of being a part of that mental health and wellness journey.
I am a relational therapist and feel that it is most important to establish a sense of trust and empathy with clients in order for therapeutic growth to occur. My therapeutic interests are general but I am well versed in working with clients experiencing stress/overwhelm, depression, anxiety, family of origin issues, boundary issues, and constraints stemming from institutional and systemic racism and discrimination.  I identify as a heterosexual, black, cis-gendered woman.  When I'm not working, I spend my time with my family, and scrolling TikTok to stay relevant 🙂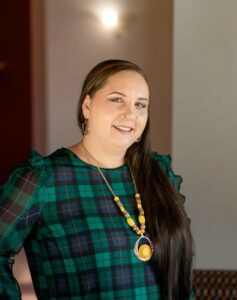 Hi, I'm Amber Madume. I am licensed professional counselor. More specifically, I am a hope holder for those that have, for whatever reason, temporarily lost hope. I have a Master of Science in Human Resources with an option in Counseling from East Central University in Ada, Oklahoma. I have a Bachelor of Science in Psychology and a Bachelor of Arts in Human Services Counseling with a Concentration in Services to the Deaf, also from East Central University in Ada, Oklahoma.  I grew up in Southeastern Oklahoma and North Texas, moved to Minnesota in 2017 and I have been at Augsburg since 2018. In 2020, I moved back to North Texas. I work primarily remotely, but I maintain my connections in the Twin Cities. A sense of connection and community are important to me!
I've been working in the mental health field for 12 years and in the college counseling setting for 5 years. Before coming to Augsburg, I worked in various mental health settings, including community mental health and residential treatment for alcohol and substance abuse for Native American women and their children. It was while working in the residential treatment facility that I was able to connect more with my culture and give back to my people. This experience taught me the meaning of giving back and serving others. It is truly a pleasure and honor to be able to serve students at Augsburg in the capacity in which I do, during these transformational and sometimes challenging college years. My counseling approach is person-centered and trauma informed. When we work together, you can expect a partnership with someone who is honest and authentic. You know yourself best and I will want to get to know you and all that encompasses you! I will meet you where you are and compassionately challenge you to strive for progress, not perfection. 
I identify as a Native American, cisgender, female. When I am not at work, you will most likely find me at one of my children's sporting events. I enjoy making memories with my family and friends, traveling, beading, finding a good bargain and visiting historical sites.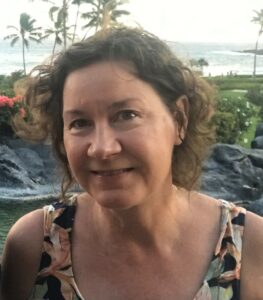 Beth (she/her) is a Licensed Psychologist with a Ph.D. from the University of Minnesota, with many years of experience in college counseling centers.    Beth approaches therapy as a collaborative, relational process, focused on creating a trusting, respectful space where students can tune in to their own wisdom and be their authentic selves.  Beth knows the importance of identity – ethnic, cultural, religious/spiritual, gender, sexual/romantic – and seeks to create a respectful, compassionate space for each student to share and explore their identities as part of their unique strengths.  Beth has training in many therapeutic approaches, including humanistic, narrative, mindfulness and self-compassion, psychodynamic, polyvagal, and acceptance and commitment therapies.  Beth holds a trauma-informed lens (including multi-generational trauma) and seeks to be present with each student from a place of cultural humility.  Beth feels honored to work with the amazing students at Augsburg, many of whom identify as BIPOC, first-generation college students, students from immigrant families, and/or LGBTQIA+ students.
Beth identifies as a white, heterosexual, cisgender female.  Her cultural influence is Scandinavian and Minnesotan (having grown up in Duluth), with a dose of East Coast from her time living in Brooklyn and New Hampshire.  Beth enjoys spending time in nature, walking, biking, hiking, canoeing, and cross country skiing, as well as time indoors in the cooler months going to the theater and having dinner parties with friends.  She also enjoys planning wonderful budget adventure trips around the world with her husband, Augsburg professor Joe Underhill.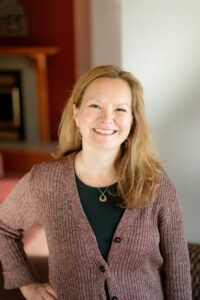 I am a clinical social worker who has worked in college counseling for 16 years, 10 of those at Augsburg, and I truly love working with Augsburg students and the larger Augsburg community.
In addition to deep beauty and meaning, life contains much that can be genuinely and deeply challenging and painful.  I feel honored to sit with students as they (and I) explore those questions of how, even in the face of hardship, we can show up for ourselves, the people we care about, the larger world, and our deepest values.  Towards this end, I incorporate a lot of focus on self compassion, mindfulness, and other skills and tools to work with one's own nervous system and its various states.  I strive to practice in a way that is relationally based, trauma (and especially intergenerational trauma) informed, and rooted in cultural humility.
I see a lot of the work of counseling as being focused on connections and reconnections with ourselves, our own wisdom, with others, and with our belonging to the larger world.  I am very interested in systems- internal systems of coping which may have arisen over time, family systems, community systems, larger cultural and political systems… and I believe deeply in parallel processing: the idea that the work we do in one area of our world can often be translated to other areas.  One prime example of this would be the ways that working to relate differently to our own thoughts, feelings and experiences can often have a profound effect on how we then relate to important others in our lives.
My path to this work was somewhat unconventional.  I came to Minnesota for college, and majored in history.  I then spent most of my twenties traveling and working outdoors, helping people connect with themselves and others via gardening.  Among this work was four years as an organic vegetable grower, raising food alongside people experiencing homelessness and in early recovery from drug or alcohol addiction.  Through my late twenties, I went back to night school to take psychology and related classes, and in my early thirties, I went back to graduate school.  I  earned a masters degree in human development with a focus on early childhood risk and resilience and followed that with a masters degree in clinical social work. I then trained and worked in a community mental health system in Cambridge, Massachusetts, for many years before returning to the Twin Cities.
I identify as a white bodied, cisgender female who has had the fortune of growing up and spending a lot of time in communities where not all of my identities were in the majority.  I strive to always learn and grow, and continually try to find a balance between acknowledging the systems that mental health work is often done within, while still challenging and working to de-colonize my own work and encouraging students to craft paths for themselves taking what is helpful from current systems while also centering and honoring their own individual and other truths.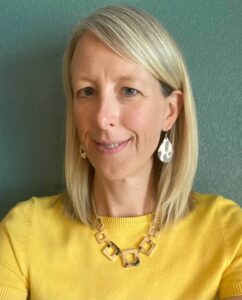 I am a licensed psychologist with a PhD in Counseling Psychology from the University of Missouri-Kansas city. I grew up in MN and received my BA in Psychology and English at Concordia in Moorhead. I have 15 years of experience in college mental health and find deep meaning and appreciation in working with a college population. I believe that college is a time of immense growth, change, and learning, and thus is also an excellent time for students to dig into addressing their struggles, learning about themselves, and strengthening their connections to self and others through counseling. 
I believe that counseling is one of the few places that we can fully focus on ourselves in a non-judgemental and compassionately challenging space that is designed to help us reach our goals, address our struggles, and be our authentic selves. I approach my work with clients with the belief that past experiences and relationships have taught us ways of feeling, reacting, and behaving in the world that work for a time, but don't always serve us well as we grow and change. I strive to help clients understand and have compassion for their struggles so that we can then create new, healthier, more effective patterns of thinking, reacting, and behaving. I also believe that a deep sense of disconnection from self or others is at the heart of many mental health challenges and I see counseling as a place in which we can learn how to connect in ways that are consistent with our values and needs. When we work together, you can expect that I will want to get to know you and all the identities and experiences you bring to the table. You can also expect that I will be honest and authentic, that I will challenge with care and compassion, and that I will readily employ humor and sarcasm. I recognize that asking for help can be scary and vulnerable, and I will do all I can to honor that vulnerability and make our time together a place in which you grow to feel comfortable, connected, understood, and accepted as you are.  
I identify as a white, cisgender, heterosexual female who is deeply curious about all people. Being deeply curious means I work from a stance of cultural humility while also engaging in ongoing personal education focused on issues of diversity, equity, and inclusion. I am a hardcore introvert who has learned how to take on the persona of an extrovert when needed. As a result, I love doing outreach and connecting with groups across campus, but my greatest satisfaction comes from one on one connections with clients, colleagues, friends, family, and the community; in the end, I believe that our connections are what give life meaning and purpose. I am a mother, a wife, a friend, a consumer of pop culture, a non-athlete turned amateur athlete, an outdoor lover, an avid reader, a recovering perfectionist, a connoisseur of candy, and a lover of cats.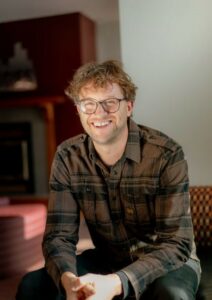 I received my undergraduate degree from the University of Minnesota, Twin Cities, a masters degree in Ideology and Discourse Analysis from the University of Essex, England, and a masters degree in Social Work from Augsburg University. I've worked in a wide variety of mental health settings, from homeless youth outreach to hospitals.  I've also taught clinical courses in social work programs and supervised interns.
My counseling approach is based on compassionate inquiry and is trauma informed. It involves developing skills and incorporates mindfulness-based behavioral interventions.  I focus on fostering personal growth.  With a warm, easygoing, and energetic style I help clients establish a calm inner base to face life's challenges, address problematic behaviors, and build a life worth living. I believe that understanding emotions, and clarifying what's important to us is essential to establishing meaningful connections to ourselves, to others, and to our values and passion.
I grew up in southwest Minneapolis and reside there today.  I identify as a cis-gendered, white, heterosexual male. I enjoy an active lifestyle of running, biking, and nordic skiing.  I am passionate about the outdoors and escape the city whenever possible to go hiking, camping, and canoeing. I seek awe in wild places.  I also enjoy cooking and am known to never pass up on a taste test.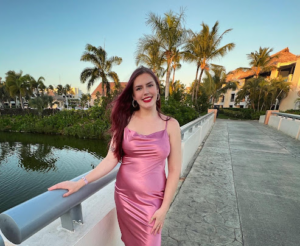 Hello! My name is Katie and I am an intern in the CWC. I am a Master's of Social Work student from the University of Minnesota doing my clinical placement here. I graduated from Minnesota State University- Mankato with a Bachelor's in Psychology and Spanish. I have been working in Residential Mental Health Treatment for about 3.5 years. When I do find some free time I enjoy spending time with friends and family, cooking, photography, and spending time in nature.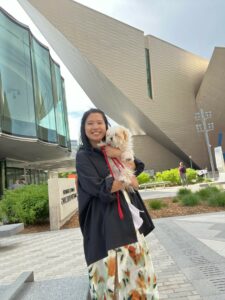 Hi, I am Phanny. I was born and raised in Cambodia and relocated to the US in 2011 with my family. I graduated from Augsburg University in 2019 with a Marketing degree. I am a first-generation student and love to learn. I am currently a student in the MBA program here at Augsburg after taking a few years' break from my studies. I chose Augsburg as a place to study and now to work, because I enjoy the diversity that Augsburg has to offer.  Moreover, I enjoy the opportunity to hear about and learn from the experiences of students from various backgrounds. During my free time, I like to listen to music and explore nature with my dog Ace (Maltese/Shih Tzu). I also love traveling and exploring new places, especially places that have outdoor activities (zipline, kayaking, etc.) and food.