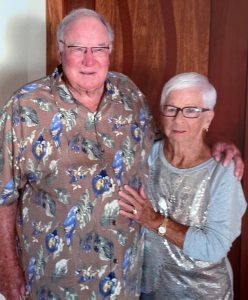 At the end of 2020, Lloyd Amundson decided to start a nursing scholarship at Augsburg. But this wasn't the first nursing scholarship he'd established. It wasn't even the second. Lloyd and his late wife, Barbara, have multiple nursing scholarships set up around the country, from Maui to Sioux Falls and now at Augsburg.
"Nursing scholarships have been our pride. My wife and I were sold on the nursing profession because we feel like they're the masters of the health care industry. Doctors are good, of course, but when the doctor walks into a room, the nurses have everything ready for them to go," says Lloyd.
One of Lloyd's passions is a nursing program at Mayo Clinic in Rochester he and his wife helped launch years ago, which helps nurses continue their education.
"I have a good friend named Leeann Johnson who has really been a good pusher for these things, so now we're doing more to urge nurses to go on to higher education to earn a master's degree in nursing."
Lloyd graduated from the University of Minnesota in 1951. While in school, he didn't know much about Augsburg other than it was a smaller school near the U of M and had a good athletics program. Lloyd followed Auggie Jeroy Carlson's career. Also known as "Mr. Augsburg," Jeroy played baseball, basketball, and football as a student and was part of four MIAC championship teams. Years later, Lloyd and his wife started going to Mayo Clinic and met Dr. Paul Mueller '84. Paul is a Regent Emeriti of Augsburg University, is a past chair of Augsburg's Board of Regents, and currently serves as Chair of Augsburg's Great Returns campaign.
"We're nuts for Mayo since they've taken care of us over the years. My wife had pancreatic cancer, it was a routine checkup and Dr. Mueller caught it. He is a really, really good guy, a good doctor. He was such a supporter of my wife."
So when Lloyd was looking to establish another scholarship, he thought of the university that Dr. Mueller loves so much and started the Lloyd A. and Barbara A. Amundson Nursing Scholarship Honoring Dr. Paul Mueller '84.
Lloyd hopes this scholarship will inspire more students to go into nursing.
"It's a good job, it's a responsible job, and we need more people in there. I would like to see this nursing program get a lot bigger. We're working our way into a bad problem of not having enough nurses. As the population is getting older, like I am, we need to be careful to graduate enough qualified nurses."
Lloyd also hopes his gift will encourage others to create their own scholarships for students.
The purpose of this scholarship is to provide financial support to Augsburg nursing students, prioritizing students who demonstrate academic achievement and financial need, and are passionate about nursing.
Nancy Mueller, President Paul Pribbenow, and Paul Mueller '84. Photo courtesy of Coppersmith Photography.

"I have had the pleasure of knowing Lloyd Amundson for many years. I also knew his wife, Barbara. Their love for each other and their communities was obvious. After his wife died several years ago, Lloyd has expressed his enduring love for her and compassion for others through generous philanthropy. Lloyd is a strong advocate for education, especially of future nurses. Lloyd appreciates the student-centric values of Augsburg University and the outstanding nurses that graduate from Augsburg—many of whom now work at Mayo Clinic. Lloyd's generous gift will support the training of many future Augsburg nursing students."

– Paul Mueller '84

Chair of Augsburg's Great Returns campaign
Donors who give annually to academic scholarships or create permanent scholarship endowments reduce student debt and provide financial support to those who may not otherwise be able to afford college. These gifts encourage students in highly valued academic disciplines, reward students for high achievement, and inspire students to pay it forward.
If you are interested in supporting an existing scholarship or creating a new scholarship, please visit Giving To Augsburg University.