Linda '85 and Ron Ott chose to give a Charitable Gift Annuity to Augsburg to support Augsburg's nursing students.
"I was always grateful for my time at Augsburg and wanted to give back," says Linda.
Linda was already working as a nurse for a few years when she decided to go back to school to earn a baccalaureate. There weren't many programs that had what she was looking for, until she found Augsburg.
"Augsburg faculty and the school meets students where they are. One example of this was with my transfer requirements for a physical education course. I was in a golf league and my professor said, 'The spirit of this requirement is met.' Not all schools will work with students like that."
After graduation, Linda worked as a nurse for the VA hospital for many years. When Linda and Ron found themselves in a position to give back to their alma matters, they decided to set up Charitable Gift Annuities.
"A Charitable Gift Annuity is a way for us to do something now that ensures Augsburg has funding. It also provides tax advantages, and a little income back to us each year. Quite frankly, Augsburg made the whole process very easy, even to split our gift between a few different programs we want to support."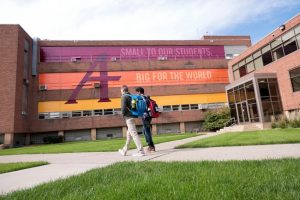 Linda requested their gift to Augsburg be split between the nursing program and nursing student scholarships. She wants other students to be able to achieve higher degrees in nursing, since she was able to advance her nursing career through Augsburg's program.
With the income that comes back to them each year through the charitable gift annuity, the Ott's love to travel. They routinely travel to new places and enjoy visiting Switzerland in the summer.
Interested in learning more about a charitable gift annuity?
If you are interested in learning more about using a charitable gift annuity to establish a gift at Augsburg, please visit Plan My Legacy. Institutional Advancement Director Heather Riddle has also recorded a video about what CGA's are and how they work. You can view it on her YouTube channel.
If you would like to speak with someone about giving, please contact:
Amy Alkire
Assistant Vice President, Institutional Advancement
612-330-1188
alkirea@augsburg.edu