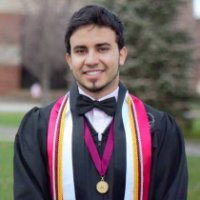 Ibrahim Al-Hajiby '14 was featured by Public Radio International, a global nonprofit media company, and discussed social activism and his role in raising awareness of the condition of his homeland, Yemen.
Al-Hajiby, who came to Minnesota in 2007 as a high school exchange student, found himself drawn back to the state to attend college.
After hearing about protests in Yemen's capital to overthrow dictator Ali Abdullah Saleh in 2011, Al-Hajiby organized his own 24-hour protest on the Augsburg campus.
"I felt like I was disconnected from historymaking, so I wanted to do something here in the United States, especially in my college," Al-Hajiby said.
Today, Al-Hajiby keeps a close watch on what's happening in Yemen which made him a good source for context on the conflict, prompting the PRI interview.
Read "A Yemeni watches from afar-again-as his country erupts in chaos" on the PRI news site.
Al-Hajiby's comments also aired through media outlets including: