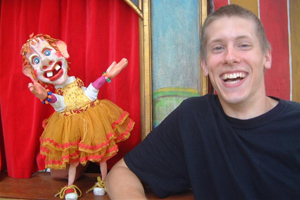 Having the opportunity to work with a professional theater company before you've even graduated from college is something you don't think twice about. Unless you're me.
By having two internships with two vastly different Minneapolis theater companies, Open Eye Figure Theatre and the Jungle Theater, I was given a unique chance to study what lies ahead while I was still studying for finals.
Internship #1
Traveling around the Twin Cities in an old white van crammed to capacity with puppets is precisely what I never dreamed I'd be doing. Well, maybe in a dream, but not consciously.
Working with Open Eye Figure Theatre in the summer of 2005, I spent my days and nights rehearsing, building, and performing in the Driveway Tour, a program in which Open Eye takes family-oriented puppet shows to where theater is most accessible – your backyard. Never did I think that "children's theater" could be so entertaining, so professional, so rewarding. And maybe this is all so because it isn't children's theater.
Co-founders Michael Sommers and Susan Haas do the majority of the work themselves in their small, but expanding, company, creating works intimate in size yet profound in depth. The exquisite artistry and overwhelming passion with which these two work is a rarity in the ever-growing commercialization of theater today.
Open Eye combats the onslaught of big regional theater with a program that seeks to bring the art form to everyone, regardless of race or class. These performances brought me to less privileged neighborhoods and even shelters, where neither the children nor adults had ever seen anything like this. It was here that I was realizing my mission.
It's a dirty job, with long hours and no pay, but someone has to vacuum the rice out of the carpet, sweep and reset the debris from the explosion, and make beef stew. In the spring of my senior year, I was that someone.
Internship #2
My other internship was serving as a production intern for the Jungle Theater's remount of The House of Blue Leaves. I had the fortune of watching a professional production move from the rehearsal halls to the closing performance. Working alongside well-known actors and a talented production crew, I saw the extraordinary amount of time and people needed to run a larger-scale theater.
Jungle Realization #1: More people means the company can do more. Jungle Realization #2: More people means that individuals can't do more. Each actor, just an actor. Each builder, just a builder. Neither one of my revelations is a better outcome, but I began to understand that numerous theater companies function in different ways than what my previous experiences had shown me.
Being able to simply sit backstage had its own set of advantages as well. Each artist in this production had a remarkable journey to share of their balance between life and theater: for some one is more prevalent, and for others, the words mean the same thing. I belong to the latter.
What my internships didn't teach me
Well, I've since graduated and had time to reflect on my experiences, and I have figured out that there is a lot these two internships didn't teach me. The internships didn't teach me professionalism in rehearsals or in artistic communications. They also didn't teach me to demand of myself an excellence on the stage and in the shop.
They couldn't teach me these things, because Augsburg already had.
It also occurred to me that neither one of my internships would have come about if it weren't for the supportive and dedicated theatre arts faculty at Augsburg College. It's a wonderful feeling to be grateful.
I've also learned a few things that neither an internship nor a professor alone could teach. I know that I'm not interested in "big time" theater, in performing Neil Simon for the rest of my life. But I am wholly passionate about theater that speaks to everyone. Whether it speaks to them in their backyard or from the stage of the Jungle, theater is something we all need.
These two internships illuminated for me the life of a theater artist. I've seen that it's hard, that artists never stop struggling. I've learned that what I thought I wanted is entirely different from where I need to be. It's a journey that never seems to end. Theater is exactly what I need to do. And that's something even I don't have to think twice about.