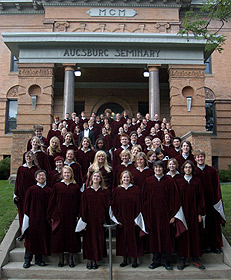 The 20th Reformation Sunday "Singing the Faith" hymn fest at Luther Seminary on Oct. 28 will feature the Augsburg Choir and include other Augsburg connections. The program starts at 7 p.m. in Olson Campus Center.
The theme, "The Apostles' Creed and the Hymnody of Paul Gerhardt," celebrates the 400th anniversary of the birth of this hymn writer, known as the "Sweet Singer of Lutheranism." Gracia Grindal '65, Luther Seminary professor of rhetoric and creator of "Singing the Faith," has chosen to focus on Gerhardt's hymn, Befiehl du deine Wege (Trust in God), based on Psalm 34. The Augsburg Choir, directed by Peter Hendrickson, will premiere a newly-commissioned work, which introduces a new tune for the hymn, and Grindal is providing a more poetic translation for the hymn text.
This hymn has enjoyed many faith connections since first being sung in the mid-17th century. Methodism's founder, John Wesley, heard it while sailing to America with a group of Moravians and translated it. Dietrich Bonhoeffer wrote of it during his imprisonment in World War II. And, the hymn is used as a theme in Johanna Spyri's book, Heidi, as the young girl reads its words and grows to understand how God works through difficulties to provide comfort in people's lives.
The Augsburg participation in the program marks long and shared traditions between the college and seminary. In addition to Grindal's translation, Peter Hendrickson will play the organ and direct the Augsburg Choir. Augsburg musicians will also play in the string/wind ensemble, and President Pribbenow will be a reader.
The commissioned music, a concertato for strings, choir, and the congregation, was written by Dawn Sonntag, adjunct instructor at the College of St. Catherine and director of music at the Norwegian Memorial Lutheran Church.
A German dinner at 5:30 p.m. will precede the program in the Campus Center; the cost is $15. For information, contact the seminary's communication office at 651-641-3451.