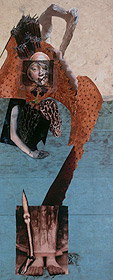 On Nov. 4, Augsburg will host "Becoming Well Within: A Tribute to Women with Breast Cancer," a concert, art exhibition, and reception that will benefit Well Within, a non-profit wellness and renewal resource center located in West Saint Paul. This event is being produced by a group of professional women, including several Augsburg community members.
The concert portion will be held at 5 p.m. in the Hoversten Chapel and will feature "Where I Live,"a breast cancer oratorio by Minneapolis composer Diane Benjamin and conducted by Jane Ramseyer Miller. Guest performers include Carol Connolly, Lori Dokken & The Girls, Vivian Jenkins-Nelson, Wendy Lehr, Billy McLaughlin, Mila Vocal Ensemble, Donna Peña, Abigail Crampton Pribbenow, Tracy KS Yue, and a women's chorus of singers from across the Twin Cities.
The art exhibit portion will be held in the Gage Family Art Gallery in the Oren Gateway Center, and it will showcase "Journey Toward Healing," a set of collages by Janette Maley and photographs by Arthur Hand. These images were created while Maley was diagnosed and treated for breast cancer until her death in September 2006. Mr. Hand will give a brief presentation at 6:30 p.m.
Admission is by donation in support of Well Within, a nonprofit health organization co-founded in 2004 by Mary Treacy O'Keefe (MA, breast cancer survivor, executive director) and Pat Walsh (cancer survivor and artist). Well Within offers affordable programs including complimentary therapies to women and men on a healing journey from critical illnesses such as breast cancer.
Please visit the fundraiser web site for more information: www.becomingwell.org/tribute/