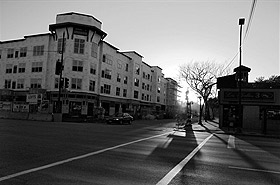 The newest addition to the student gallery in Christensen Center is Phase 1 of the nonprofit organization OverExposure's newest initiative, entitled What's New? OverExposure creates partnerships between photographers and tax-exempt nonprofits.
The exhibit, featuring 10 Photographers, 10 Neighborhoods and 10 perspectives, will be in the Christensen Center from Nov. 7 – Dec. 2.
What's New? is a 2-year project that will document the changing demographics of Twin Cities neighborhoods. OverExposure will partner photographers with Minneapolis and St. Paul neighborhood and community organizations to document the diversity and changing population of the Twin Cities. Organizations will help photographers identify neighborhood characteristics, places of interaction, and events and activities that signify changes and challenges created by growing diversity. Photographers will document and artistically interpret these changes. 
Completed work will be exhibited publicly as a body, reflecting the diversity both between and within neighborhoods and used as a tool for public forums and community dialogues.  Partners have the right to use photographs for 1 year to market their mission, build awareness and expand community-building capacity with greater outreach and participation.