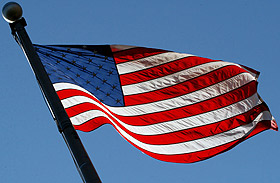 On Tuesday, Feb. 5, Augsburg faculty and staff can learn about "Beyond the Yellow Ribbon," the Minnesota National Guard's reintegration program for returning soldiers. Chaplain John Morris (Lt. Col.) will explain how the program provides benefits and resources to ease the returnees' reintegration into families and communities. The event takes place from 3:15 – 5:15 p.m. in Sateren Auditorium.
Nearly 80 military veterans or currently-serving military members are enrolled at Augsburg — one of the highest number at any private college in Minnesota. In order to help faculty and staff understand the relatively high risks for difficulty in college, especially among veterans returning from high-stress deployment, Morris — along with a mental health specialist and a returning veteran — will talk about the challenges and issues faced by these students. Augsburg registrar Wayne Kallestad says, "We want as many of our faculty and staff to be aware of these issues so we can possibly cut the percentage rate of academic failure experienced nationally by returning troops." He adds that there is a strong chance that faculty will have returning veterans in their classes based on enrollment numbers.
The response to "Beyond the Yellow Ribbon" has been so positive in Minnesota that the program has been identified by the U.S. Congress as a national model for implementation in all 50 states under the 2008 National Defense Act.
Kallestad says that Augsburg's high enrollment of students in the military is partly due to the tuition discount offered military students in the Augsburg for Adults undergraduate and graduate programs. Michael Bilden, director of Augsburg for Adults admissions, coordinated the implementation of this benefit in 2006. In November, Augsburg's Military Support group sponsored a reception to recognize military students and allow them meet each other. A similar reception will take place on Feb. 12 and again on April 17. The members of Augsburg's Military Support Group are Ann Garvey, Mike Bilden, Karena Jones, Sadie Curtis, and Wayne Kallestad.