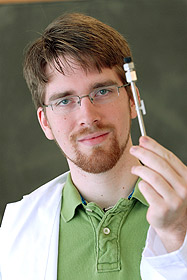 Senior chemistry major Brian Krohn is one of approximately 70 students in the country who will travel to Washington, D.C., on April 30 to present their research to members of Congress. Accepted to the 2008 Posters on the Hill program, sponsored by the Council on Undergraduate Research, he will travel to Washington with his research adviser, Arlin Gyberg, professor of chemistry.
Krohn's poster is titled "Fuel of the Future: Biodiesel. A Novel Method and Catalyst for the Production of Biodiesel." He became interested in biodiesel fuels and received a grant from Augsburg's Undergraduate Research and Graduate Opportunity Office (URGO) in summer 2006 to work with Gyberg. His goal was to experiment with alternate catalysts that could create a more efficient and environmentally friendly biodiesel. This research, done in collaboration with Augsburg alumnus Clayton McNeff '91, vice president of SarTec Corporation, was successful and spurred the discovery of a new process to produce biodiesel.
On April 30, Krohn and Gyberg will meet individually with members of the Minnesota delegation to explain the research and its implications for the economy and environment. Later in the day all legislators are invited to a general poster session where students can present and talk about their work.
The Council on Undergraduate Research hosts the annual "Posters on the Hill" program to give students the opportunities to share their stories about the value of undergraduate research and how it has shaped their career plans with members of Congress.