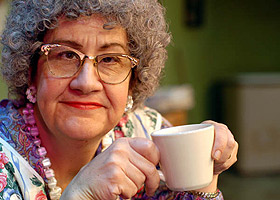 On April 21, the local theatre community is throwing a bash to benefit the Janet Paone Transplant Fund. It will help defray medical costs incurred by Augsburg alum Janet Paone, Class of 1983, when she underwent a kidney transplant in November. Paone, who has appeared most recently as Mrs. Snustad in the hit musical Church Basement Ladies, is well known in the Twin Cities theatre community.
The kidney Paone received was donated by a fellow actor, John Vaughn, after they met as the leads in "Fiddler on the Roof" in community theatre last summer. When it became urgent for Paone to get a transplant, Vaughn stepped forward with an offer to be her donor.
The Kidney Kabaret promises an evening of music and laughter, with a silent auction to raise additional funds. The program will be hosted by Dale Connelly, Minnesota Public Radio, and Frank Vascellaro, WCCO-TV. Performances include the Church Basement Ladies, Martini and Olive, Drew Jansen and Jimmy Martin, Dennis Curley and Katy Hays, Those Lutheran Ladies (Janet Letnes Martin '68 and Suzann Nelson '68), Irondale High School Drama Department and Christine Karki and David B. Young.
The silent auction items include many baskets with theatre and restaurant gift certificates, handmade items, works of art, and unique opportunities, such as bowling with the Church Basement Ladies, and dinner in a lakeside condo.
The Kidney Kabaret is one night only, on Monday evening, April 21, in Hoversten Chapel, Foss Center. The silent auction begins at 6:30 p.m., and the show starts at 7:30.
Tickets for the evening can be reserved at Janet.KidneyKabaret@gmail.com, with a suggested donation of $25. Additional donations may be sent to the Janet Paone Transplant Fund, U.S. Bank St. Anthony Falls Office, 333 E. Hennepin Ave., Minneapolis, MN 55414, or be made at any U.S. Bank branch.