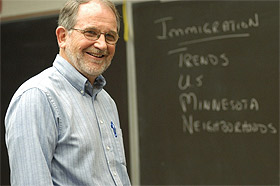 Augsburg College President Paul C. Pribbenow recently announced the appointment of Garry W. Hesser as the College's first Sabo Professor of Citizenship and Learning. Hesser's work in this new role will lay the groundwork for the establishment of the endowed Martin Olav Sabo Center and Chair.
As Sabo professor, Hesser's activities will include collaboration with the Center for Service, Work, and Learning concerning student civic engagement and leadership; leadership in campus initiatives to practice democracy and civic engagement, such as issues forums and student programs; collaboration with Augsburg's annual convocation series, and connections with the Christensen and Batalden symposiums; and identification of new opportunities to develop the Sabo Scholars Program and community outreach programs.
"I am deeply honored and humbled by the opportunity to work closely with Martin, Sylvia and the Sabo family as we in the Augsburg community deepen and expand our understanding and practice of citizenship," said Hesser. "Martin's steady leadership and civil discourse in the political process and the making of public policy will be a North Star for us as we design and offer programs and opportunities to explore the vocation of citizenship and public service."
Professor Hesser has taught in sociology and metro-urban studies at Augsburg for more than 30 years and is recognized nationally as a pioneer in the field of experiential education. He was honored in 1997 with the Thomas Ehrlich Award for leadership in service-learning, and in 2004 was named the Minnesota Professor of the Year by the Carnegie Foundation and Council for Advancement and Support of Education. He has been honored by his sociology colleagues in Minnesota and within our Augsburg community for distinguished contributions to teaching and learning.
Pribbenow said, "I believe Garry is exceptionally qualified to honor the life and work of Martin Sabo, whose political leadership has been combined with an abiding faith in the role of public service as part of democratic citizenship."
The Sabo Chair in Citizenship and Learning is the culmination of nearly 20 years of fundraising and advocacy by Martin Sabo's friends and colleagues. The development of the Sabo Center and its related programs closely reflect Augsburg's historic and deep commitment to education for democracy.