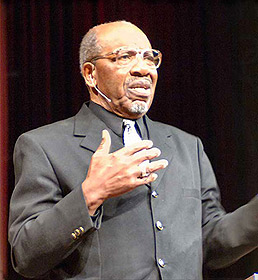 This month, the Augsburg Rochester location will hold its first convocation featuring John M. Perkins, a minister, speaker, and teacher. His address, titled, "When the Foundation is Destroyed, What Can the Righteous Do?" will be given at Bethel Lutheran Church on Tuesday, May 20 at 7 p.m.
John M. Perkins is a sharecropper's son who grew up in Mississippi amidst dire poverty. In 1960, after his conversion to Christianity, Perkins returned to his boyhood home to share the gospel of Christ and to work in the civil rights movement. Despite dropping out of school in the 3rd grade, Perkins received recognition for his work with seven honorary doctorates from Wheaton, Gordon, Huntington, Geneva, Spring Arbor, North Park and Belhaven colleges. He is an international speaker and teacher on racial reconciliation, leadership, and community development.
Perkins and his family have ministered to the poor in rural areas and inner cities for more than 40 years. Through the various organizations and schools they have started, Perkins and his wife, Vera Mae, have worked to advance the principles of Christian community development and racial reconciliation throughout the world.
At noon on May 20, Perkins will speak at a luncheon on "Leadership for the 21st Century." Contact the Rochester site at 507-288-2886 for more information.
Augsburg's Rochester site is located at Bethel Lutheran Church, 810 3rd Ave. SE.