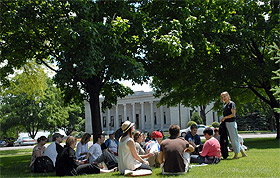 What could be better than a summer school class with weekly field trips?
Art history professor Kristin Anderson's Designed Environment course uses art and architecture to study the history of Minneapolis and St. Paul. On weekly outdoor excursions, students explore buildings, parks, churches, and museums to learn about architecture, landscape design, and urban design and their evolution throughout history. Anderson teaches the course because she wants students to experience some of the beauty and positivity of the Twin Cities.
On a breezy summer afternoon, Anderson and Fannie, her 8-week old Goldendoodle, began class at the Lakewood Cemetery near Lake Calhoun. Built in 1872 in response to the rapidly growing city's need to deal with its deceased citizens, Lakewood was modeled after Mt. Auburn Park in Cambridge, Mass. As such, the cemetery was not only to serve as a burial site but also fulfill the public's need for green space and provide a respite from the noise and pollution of the city.
The design features curving lanes, emphasizes and augments existing topography, and utilizes species of trees and plants not found elsewhere in the state. The cemetery also includes beautiful architectural features — each a work of art in itself — such as mausolea, monuments, and a chapel designed by Minneapolis architect Harry Wild Jones based on the Hagia Sophia in Istanbul. The inside of the chapel treats the visitor to a breathtaking mosaic designed by New York designer Charles Lamb.
The class is typically taught each summer, but site visits can change from year to year. This session, the class visited downtown Minneapolis and St. Paul, the St. Anthony Main neighborhood, the Hiawatha Corridor, Summit and Selby Avenues in St. Paul, the Minneapolis Institute of Art, Minnehaha Falls, the state capitol building, James J. Hill house, and the Basilica of Mary. Following the site visits, students are asked to analyze an element of the designed environment and evaluate its style, historical and architectural functions, and the element's overall success in the environment.
Senior Robert Rivera took Anderson's course to fulfill his final requirement for graduation. Though he has lived in the Twin Cities for 6 years, Rivera said he never ventured out of his suburban neighborhood. "I thought since I'm going to be a teacher here, I should learn more about Minnesota history," he said.
Nicole Coutris, a senior studio art and art history major, has enjoyed hearing Anderson talk with enthusiasm and in great detail about the sites they visit. A Cleveland native, Coutris said she has learned a lot about Minnesota culture and history from the class.