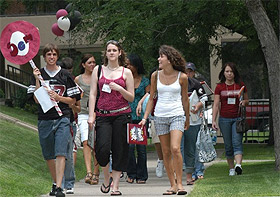 Members of Augsburg's Class of 2012 will be on campus July 15-19 with their parents and families for SOAR — Student Orientation and Registration. This year, approximately 380 students will attend one of three two-day sessions designed to introduce students to campus life and connect them with other Auggies.
SOAR is an opportunity for students to find out what being an Auggie is all about. Through participation in community service projects, students will learn about our neighbors as well as what it's like to live and learn in the city. It's also a chance for students to meet classmates, talk with teachers, get an official Augsburg ID card, and take a first look at their fall course schedule.
Parents and family will have breakfast with President Pribbenow and have opportunities to talk with staff and faculty. They can learn about the Augsburg Promise and academic requirements for graduation and meet with Enrollment Services or Financial Aid counselors. Special parent and family sessions provide answers to many typical first-time questions, like "Does my child need a computer?" and "Will he come home every weekend?"
2008 session dates are:
SOAR 1: Tuesday, July 15 – Wednesday, July 16
SOAR 2: Thursday, July 17 – Friday, July 18
SOAR 3: Friday, July 18 – Saturday, July 19
Each session begins on Day One at 10 a.m. and ends on Day Two around 11 a.m. For more information, go to the SOAR web site.