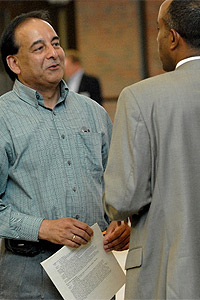 For many graduate programs, the last hurdle between students and their diplomas is a massive thesis paper that demonstrates all that they've learned. Augsburg's Master of Business Administration (MBA) program in Rochester has a different hurdle for its students: complete a management consulting project for a local business or non-profit organization.
For free.
"We use a team approach, because in the real world, that's how business works," says Dave Conrad, assistant director of the MBA program in Rochester. The teams of students are selected by the faculty to provide a balanced mix of different skills and specialties that are best suited for each "real-world" partner.
The teams help businesses and non-profits by developing marketing plans, strategic plans, feasibility studies, new product launches, and business initiatives for them. This capstone project concludes with a formal presentation and detailed report to the partner organization.
The MBA students have worked with 18 organizations in Rochester and 60 in the Twin Cities over the last three years. They have included groups like Mayo Clinic, Rochester Public Utilities, the Rochester Post-Bulletin, and the Rochester Civic Theater. They even helped a group that is trying to start a children's museum in Rochester.