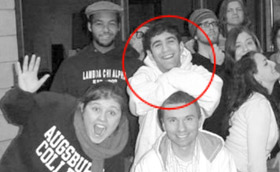 On Friday, Aug. 22 at the Uptown Theatre, film alumnus Ben Katz '08 (pictured left, red circle) will be screening "Bits," an independent film about an awkward inventor who spends his days and nights obsessing over a mysterious project. Katz produced the film, and it stars Augsburg alumni Linnea Mohn '04, Philip Mershon '06, and Nancy Waldoch '06.
Though Ben did not start out studying film at Augsburg (his first major was psychology), his first filmmaking course showed him that all he wanted to do was make films. "I realized that [making films] made me happy, and I would not be happy unless I was making films."
Ben's passion for film helped him finish all of the film production courses at Augsburg by the end of his junior year. For his senior year independent project, Ben worked with Professor Ellenwood and researched the documentation needed to produce an independent feature. Working with a 90-page script, Ben created a scene-by-scene breakdown of the script , a shooting schedule, a budget, and a business plan. The final production book was over 100 pages long. He remarked, "The best part about it was that it was for a real feature film. And I recently traveled to Los Angeles [where I] presented my project to the writer. That was a really fulfilling experience."
"Bits" is the first film by Minneapolis-based FRD Productions. To create the film, an entirely local cast and crew of over 50 people relied on intuition, collaboration, and improvisation rather than traditional narrative methods.
If you plan on seeing the screening, the Uptown Theater is located at the corner of Hennepin Avenue and Lagoon in Uptown Minneapolis. Doors to the sneak preview screening open at 11:30 p.m. on Aug. 22. Admittance is free of charge. For more information, go to www.bitsmovie.com, or contact Ben Katz at (651) 249-4154.