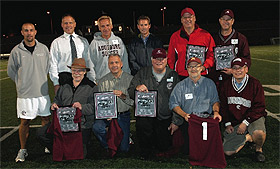 Augsburg honored several alumni during last week's Homecoming festivities including the men's soccer MIAC championship team from 1973 (pictured with current men's soccer coach Greg Holker, athletic director Jeff Swenson, and President Pribbenow), nine new inductees into the Athletic Hall of Fame, two first decade awardees, and two distinguished alumni. Congratulations to all!
2008 Athletic Hall of Fame Inductees
Greg Chmelik '87 Wrestling, Football
Mike Colehour '78 Hockey
Julie Hanson '93 Basketball, Softball
Mary Klinefelter Resch '73 Basketball
John Mayer '88 Baseball, Football
Chuck Preiss '87 Basketball
Stephanie Simones '98 Track and Field, Cross Country
Karl Sneider '71 Football, Track
Joe Wabner '83 Football
Darrell Wiese '60 Distinguished Service Award
First Decade Awards
Zach Curtis '98
An Augsburg theatre arts and English major, Zach Curtis continues to be active in the Twin Cities theater scene as an actor, artistic director, manager, and marketing director. Zach maintains a connection to Augsburg working with alumni in professional theater, speaking for Augsburg directing classes, and teaching stage combat as a guest artist for Augsburg's Theatre Artist Series. In addition to his Bachelor's degree from Augsburg, Zach holds a graduate degree from National Shakespeare Conservatory Program in New York.
Jeffery Cameron '96
After completing his Bachelor's in physics and philosophy at Augsburg, Jeffery continued his education at Hamline University School of Law. Jeff became a registered patent attorney and has also been sworn in before the Minnesota Supreme Court, the U.S. District Court, and the U.S. Court of Appeals for the Federal Circuit. In 2002, he started a law firm with a friend. Jeff has returned to Augsburg to speak with students about the patent system and about careers in patent law and has served as a mentor to several Augsburg students.
Distinguished Alumni Awards
LaRhae Grindal Knatterud '70
LaRhae graduated from Augsburg College with a Bachelor's degree in Music. She received a MS degree in Public Affairs in 1977 from the University of Minnesota, Humphrey Institute of Public Affairs with a focus on gerontology and healthcare policy. LaRhae has been active in the aging policy, research, and program development in the study of aging and has developed new approaches to needs assessment, program and service design, and policy development that have become the standards for the aging network in Minnesota. She has been a member of Augsburg's Masterworks Chorale for 15 years.
Dennis Kalpin '61
Dennis graduated from Augsburg College with a Bachelor's in Mathematics and received his Master's degree in Education from North Dakota State University in 1976. He has been a high school mathematics teacher for 40 years and a coach for 47 years in Minnesota and North Dakota. Dennis has served on numerous committees related to his coaching career. He is also active in his church in Alexandria, Minn. Always a promoter of Augsburg, Dennis recommends Augsburg to his students and athletes.