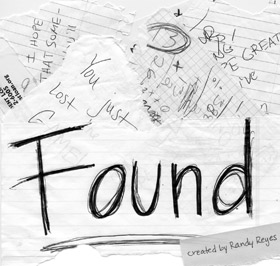 Found, a theatrical piece exploring what we can find out about ourselves through the things found in our environment, opens Oct. 21 at Augsburg College. The piece was created and guest directed by Randy Reyes, artistic producing associate with Mu Performing Arts in Minneapolis. Performances are Oct. 21, 22, and 23 at 7 p.m. in Foss Center.
Reyes cites three sources of inspiration for the creation of his play. First was the book "Found: The Best Lost, Tossed, and Forgotten Items from Around the World" by Davy Rothbart. This bestselling book began as Found magazine, a collection of discarded notes, letters, flyers, photos, lists, and drawings found and sent in by readers.
"I found these letters and notes so intriguing and mysterious–who wrote them, who was the intended recipient, why did they write it, and in some cases, what are they even writing about? [The] characters and situations sparked my imagination enough to use this book as the main source for creativity."
Reyes was also inspired by observations on a society that is constantly "plugged in" and the impact of this addiction to technology. "I see so many people nowadays constantly plugged into their iPods, cell phones, laptops, video games…and I can't help but to feel like they're missing out on what's going on right in front of them," he writes.
The material for Found was also shaped by the stories, experience, and ideas of the eight Augsburg students who make up the cast. Reyes writes, "Their own unique energy and personalities mixed with my, at times, idiosyncratic ways, really shaped this collaboration and made this particular project so exciting." The cast works together, gathering and combining text, movement, and objects, to create theatre in "found" spaces.
Josh Lyons, a cast member and sophomore majoring in theater and education, says people should see Found because they will find something about themselves in the process. "There are so many different characters and stories, different ways of looking at the people in it. There's something everyone can relate to."
Reyes has worked at the Guthrie (Hamlet, Pericles, Christmas Carol, Boats on the River, Comedy of Errors, and A Midsummer Night's Dream), the Playwright's Center, Chicago Ave Project, Thirst Theater, and The Minnesota Fringe (How to Cheat). Regionally, Randy has worked at the Alliance, the Cincinnati Playhouse, Great Lakes Theater, Seattle Children's Theater (Tibet Through the Red Box by David Henry Hwang) and others. He trained at the University of Utah Actor Training Program and The Juilliard School. Reyes recently started a two-year TCG Future Leaders Fellowship under the mentorship of Rick Shiomi.
Tickets are $5 for the general public, $4 for ACTC faculty, staff, and students, and $1 for Augsburg students and children under age 12. For reservations or other information, call 612-330-1257.