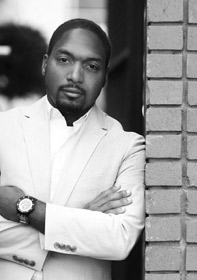 The Augsburg College Convocation Series continues Friday, Oct. 31 with nationally recognized eco chef, author, and food justice activist, Bryant Terry. Terry's lecture, "Just Food: Cooking as an Organizing Tool in the Food Justice Movement" will be held at 10 a.m. in the Hoversten Chapel, Foss Center.
For the past eight years Terry has worked to build a more just and sustainable food system and has used cooking as a tool to illuminate the intersections between poverty, structural racism, and food insecurity. He is currently a Food and Society Policy Fellow with the W.K. Kellogg Foundation.
Terry holds a BA with honors in English from Xavier University of Louisiana and an MA in History from New York University. He also graduated from the Chef's Training Program at the Natural Gourmet Institute for Health and Culinary Arts in New York City.
In 2001, Terry founded b-healthy! (Build Healthy Eating and Lifestyles to Help Youth), a five-year initiative created to raise awareness about food justice issues and empower youth to be active in creating a more just and sustainable food system. He currently serves as a consultant for the Bioneers Conference, the People's Grocery, and other not-for-profit organizations. Terry is also on the advisory board of the "Nourish: Food + Community" film and educational project.
His work and recipes have been featured in Gourmet, Food and Wine, the San Francisco Chronicle, Vibe, and Domino. Terry's critically acclaimed first book, Grub: Ideas for an Urban Organic Kitchen (Tarcher/Penguin, 2006) with co-author Anna Lappé, won the 2007 Nautilus Book Award. Terry has a regular column–Eco-Soul Kitchen–on TheRoot.com. He has made dozens of national radio and television appearances (Fox, NBC, PBS, BET, and Sundance Channel) including a guest appearance on the eco-reality series "Mario's Green House" and being a host on "The Endless Feast," a 13-episode public television series that explores the connection between the earth and the food on our plates. He is currently working on his next book, Vegan Soul Kitchen (VSK): Fresh, Healthy, and Creative African American Cuisine (Da Capo/Perseus March 2009).
For more on Bryant Terry, see www.bryant-terry.com
Following the convocation, Terry will be available in the Foss Atrium to sign copies of Grub: Ideas for an Urban Organic Kitchen.
Excerpt from "Food Fighters"
New York Times Magazine
Oct. 12, 2008
Anna Lappé didn't know it when she read Bryant Terry's name in the "Future 500," a who's-who of youth advocates and organizations, but she would end up writing a book with him. The pair, who were then neighbors in Brooklyn, published "Grub: Ideas for an Urban Organic Kitchen" in 2006 as a way to cool-ify healthful, local, sustainable food, with a side of social justice. Read the article>>
Convocation class schedule:
1st Period 8:00-8:50
2nd Period 9:00-9:50
Convocation 10:00-11:00
3rd Period 11:10-12:00
Remaining classes follow regular schedule