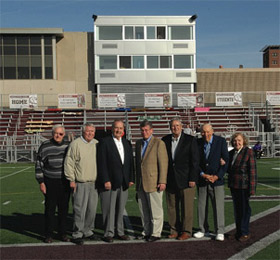 Augsburg will formally dedicate the new press box at Edor Nelson Field during Saturday's 1 p.m. football game against St. Thomas. A recognition ceremony for the donors will be held during halftime of the game.
The old press box had windows that didn't open which prevented announcers from hearing the action on their field and made for an uncomfortably warm spot to watch the game. The new press box has windows which will allow announcers to hear the game better and also provide them with a breath of the fresh autumn air that often accompanies our football games.
The opening of the two-level press box formally completes the Kennedy Center addition to Si Melby Hall, which has provided new classroom, meeting room, office space, fitness facilities and additional locker room space for the entire Augsburg community. The press box serves Augsburg's game administration staff, coaches and the media during events for the four sports that use Edor Nelson Field — football, men's soccer, women's soccer and softball. With the completion of the press box, Augsburg will now be able to utilize the third-floor classrooms overlooking the field for special receptions, as well as hospitality rooms during athletic events.
Augsburg thanks the following donors for their generous support for construction of the press box: E. Milton "Milt" Kleven '47; Dick "Pork Chop" Thompson '61; Gunnar and Mary Wick; Oliver Dahl '45; John '36 and Christine Haaland; Glen Person '47; and the Augsburg Alumni A-Club.