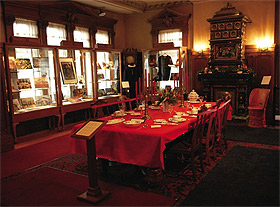 It's beginning to look a lot like Christmas, at least at the American Swedish Institute in the historic Turnblad mansion on Park Avenue.
The Institute recently opened "A Nordic Christmas," a multicultural tribute to the Christmas holidays. The exhibit includes a room for each of the Nordic countries–Iceland, Denmark, Finland, Norway, and of course, Sweden.
The Norwegian exhibit, which was designed and created by the Augsburg Associates, features a holiday table setting with Farmers Rose China. An adjacent table shows the tools and creations of a Norwegian kitchen including krumkake and lefse. There's also a Norwegian Christmas tree flanked by a bunad and a pastor's robe with a ruff collar.
Augsburg art history professor Kristin Anderson filled in the exhibit with four cases displaying Augsburg images. One case is dedicated the Advent Vespers, Augsburg's annual holiday celebration of music and message. Another case highlights the achievements of Peter Agre '70. A third display shows the historic buildings of the Augsburg campus, while the fourth has contemporary images of campus life courtesy of Stephen Geffre.
A Nordic Christmas
November 1-January 18
The annual holiday exhibit at the American Swedish Institute features decorated trees and table settings for Sweden, Norway, Denmark, Iceland and Finland. Members of the Scandinavian-American community use china, crystal, linens and other tableware from each of Scandinavian countries to set the holiday tables. A decorated tree accompanies each table and completes the festive atmosphere.