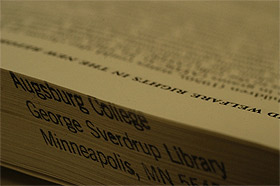 When I was a student at Augsburg I was much too serious about studying and doing my homework, even in my last year when I had a bad case of senior-itis. So I always used the semester break to read as many frivolous books as I could, usually including one of David Sedaris' self-deprecating autobiographical sketches. This year I'm using the break to complete my graduate school application, and if I get into the program, this will probably be the last chance I get to read a fun book for a long, long time.
I have asked a few of my colleagues and favorite professors to complete the following sentences:
During the break, you just have to/should read ___ because ___.
During the break, you just have to/should see or rent ___ because ___.
Some of their recommendations are not as lighthearted as mine, (I TOLD them about the Sedaris thing) but they are helpful nonetheless. Take their suggestions if you don't want to study but might want to learn something anyway. Enjoy!
–Wendi Wheeler '06
Doug Green, English
Okay, I know it's cliché, but no holiday season is complete without Capra's It's a Wonderful Life. Why? Because we spend a lot of our time carping about the foibles of co-workers, friends, and family–not to mention dissatisfactions with our jobs and our homes and our food and just about everything else–and forget how lucky we are to have them. But the film itself would be pablum if it weren't that on the road to the sentimental ending Capra and Stewart compel us to feel deeply the contradictions of loving others and, yes, even of social responsibility. See It's a Wonderful Life (again) because its condemnation of corporate America's designs on the lives of us little people (no matter what your "highest degree," you'll feel like Joe the Plumber too) is more compelling now than it has been at any time since I first saw the film over forty years ago: America may just have eluded the fate of Pottersville.
Kristen Chamberlain, Communication Studies
During the break, you just have to read Twilight by Stephanie Meyer (I concur!) because it's a pop culture phenomenon and it's awesome. If you like fantasy, you should read Eye of the World by Robert Jordan because it begins what is arguably the best fantasy series of all time (excluding Lord of the Rings).
During the break you should rent Ferris Bueller's Day Off because it's a classic, hilarious movie. "Bueller… Bueller…" anyone?
Kathryn Swanson, English
During the break, you should read everything in those bags behind every door in your house: everything you intended to read last summer because you need to make room for next summer's good intentions!
During the break you should see/rent nothing because remember those bags of books waiting for you?
Don Gustafson, History
During break you should read at least bits and pieces of Lynn Truss' Eats, Shoots, and Leaves because punctuation conundrums are perpetually intriguing, and the author enticingly pulls one "down the wide-open corridor of readability."
Laurel Christenson, Student Affairs
Over break get your hands on a copy of Harold and Maude, a 1972 cult film. It's a quirky movie about life, love and death, starring Bud Cort as a 19-year-old obsessed with death and Ruth Gordon, a 79-year-old in love with life. A wonderful love story serenaded by Cat Stevens (Yusuf Islam).
An all-time favorite read of mine is John Kennedy Toole's Pullitzer prize-winning The Confederacy of Dunces. More people probably know the author's story than have read the book and while it's definitely newsworthy, his anti-hero Ignatius J. Reilly and the people he meets along the way are what draw me back to the book every time. I often find myself looking for Ignatius on the streets of Minneapolis, in search of a job (perhaps at The Wienery?).
John Schmit, English
During the break you should read and see Fugitive Pieces (novel by Anne Michaels, film by Jeremy Podeswa).
David Lapakko, Communication Studies
During the break, you should read The Looming Tower because it will explain how 9/11 BECAME 9/11.
Brian Krohn, Rhodes Scholar
During the break I recommend Orson Scott Card's new book, Ender in Exile. It is a sequel to Ender's Game, but hey, you have a lot of time over break so you can read both.
For watching I would say rent the fourth season of Lost, stock up on junk food, and don't leave the TV room for a couple of days because…well…that is probably what I am going to do.
Wendi Wheeler, Marketing and Communication
During the break, you should read anything by David Sedaris because his books make me laugh out loud. And who doesn't need a good laugh?
Jodi M. Collen, Event & Conference Planning
During the break, you should read Pillars of the Earth by Ken Follett for two reasons:
1. It's a great, riveting story that is different that a lot of today's mainstream fiction.
2. At almost 1000 pages, it's long enough that you shouldn't have to buy many additional books. And, in today's economy…well, the cost savings alone is worth it.
During the break you should rent The Notebook because it's one of the most heartwarming, romantic stories of all time. I've seen it a hundred times, and I still cry every single time I watch it.
Randall Davidson, Fine Arts
During the break you just have to read The Gift by Lewis Hyde. It's a cultural history of gift cultures, but it is really about how creative artists can survive in a commodity culture. I've been recommending it to everyone.
During the break you should see Brazil by Terry Gilliam of Monty Python fame. He directed this film, and I think it is a classic comedy/tragedy about contemporary culture.
Stephen Geffre, Marketing and Communication
During the break you just have to read Zen and the Art of Motorcycle Maintenance by Robert M. Pirsig because you need to tell me how it ends.
During the break you should rent Better Off Dead because it is one of the quintessential comedies of the 80s, and it stars Pia Zadora. Enough said.
Chad Schneider, Marketing and Communication
During the break you should see Bottle Rocket, Wes Anderson's (Rushmore, The Royal Tenenbaums) first film staring the then unknown Wilson Brothers (Owen & Luke). This oddball caper picture was just given the royal treatment by the Criterion Collection with a deluxe double disc DVD. I saw Bottle Rocket twice in one week during its very short theatrical run way back in the day.
During the break you should read Low Life, a fascinating exploration of New York City's seedy underbelly starting in the 1840's through the 1920's. It's as much a story of a growing city as it is a growing country. As a bonus for you Godfather fans, it'll place the DeNiro/flashback scenes from Godfather II in a whole new light.
Betsey Norgard, NOW Editor
I hope to gather the dozen or so mysteries by Nevada Barr, kick back, and reconnect with Anna Pigeon's career as a park ranger and sleuth, along with her cat, Piedmont, and dog, Taco. Each mystery is set in a national park, with the most recent, Winter Study, playing out among the wolves and moose on Isle Royale.