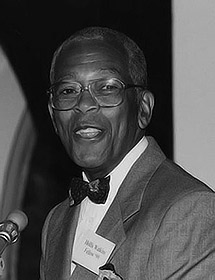 The 21st annual Martin Luther King, Jr. convocation at Augsburg College will feature Hollis Watkins, civil rights activist and president and founder of Southern Echo, Inc. The convocation will be held in the Hoversten Chapel, Foss Center, on Monday, January 19 at 1 p.m. This event is free and open to the public.
A native Mississippian from rural Lincoln County, Watkins was born the twelfth child to sharecroppers from the country. After completing high school at the Lincoln County Training School, he attended Tougaloo College in Tougaloo, Miss. with a double major in political science and history.
Watkins was the first Mississippi student to become involved in the 1961 Mississippi Voting Rights Project of the Student Nonviolent Coordinating Committee. He has remained in Mississippi, working in the community to empower people through education, culture, economics, and the political process. In 1967, he helped Robert Clark become the first Black elected to the Mississippi State Legislature since reconstruction. From 1968 through 1972, Hollis served as director of social services for the statewide Headstart Program. In this role, he established co-ops and buying clubs throughout Mississippi.
Watkins' spirit to "do for self" and the community led him to formally establish Southern Echo, Inc. in 1989. Southern Echo is a nonprofit leadership development, education, and training organization that provides training and technical assistance to individuals, groups, and organizations in Mississippi and throughout the South. The work is done in seven broad areas: the environment, education, community organizing, economic development, legal, agriculture, and the political process. Through Southern Echo, Watkins doubled the size of the Mississippi's Black Legislative Caucus from 21 to 42 legislative seats in a single election. He has prevented several unwanted and undeserving landfills from being established as well as preventing the establishment of huge hog farms (factories) in the state.
In 1990, Watkins received the SCLC's President Award for outstanding humanitarian and civil rights activism. In 1993, Hollis received the prestigious Bannerman Award for his activism, the Meritorious Leadership Award form Tougaloo College, and the Harriet Tubman award from the Magnolia Bar Foundation for community leadership in civil rights. In 2000, Jackson City Councilman, Kenneth Stokes, awarded him the Minister Louis Farrakhan Award for outstanding and dedicated service, and in 2002 the Southern Organizing Committee for the Economic and Social Justice awarded him the Trailblazer Award.