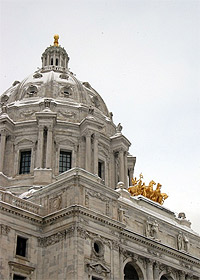 If you want to get in front of the state's lawmakers, especially during the legislative session, you've got to know your way around the system—and around the state Capitol building. Jay Benanav has no problem with either.
Last fall Benanav was hired as Augsburg's Director of Government Relations, a role his illustrious career helped him fill easily. "One thing that helps me is that I have some credibility. I've known these people for more than 20 years."
Since he completed law school in the late 70s, Benanav has been counsel to the Minnesota Senate, was a practicing attorney, was the deputy commissioner in the Minnesota Department of Labor and Industry, served as president of a private insurance agency, sat on the St. Paul city council, and manages a consulting agency that helps students and families get into college and avoid unmanageable debt.
As for this most recent career change, Benanav says he was ready for a move that combined his experience in government with support of higher education. "I talk to a lot of families," he said, "and the thing they all want for their children is an education."
Now that the Minnesota Legislature is in session, Benanav spends his days in St. Paul meeting with legislators. "My role is basically to keep Augsburg in the front of people's minds," Benanav said. "It's important that our elected officials know who Augsburg is and what Augsburg does."
Benanav said he occasionally brings students and even President Pribbenow along for meetings with legislators. "That human interaction—putting a face to the story—is really important as they make decisions that affect higher education," he said.
At stake this year is the Minnesota State Grant program. According to the Minnesota Office of Higher Education, this program provided $156.1 million to more than 80,000 Minnesota undergraduates in 2006-2007. More than 500 Augsburg students in both the Day and Weekend programs received $1.8 million of that money.
Benanav is working with Megan Benrud, the Day student body president, to organize an Augsburg Day at the Capitol this semester. Students from all programs are encouraged to attend to meet with legislators from their home districts and to tell their stories. "Our representatives need to see that this is an important project and that changes will impact real students," Benanav said.