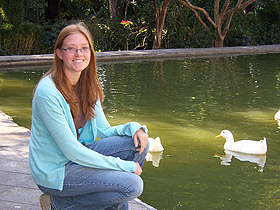 Today the world is a small place. The population continues to grow while perceptions of distances and differences are minimized by faster and smarter ways for the world's citizens to connect. That reality means we are confronted daily with the effects our actions can have on people not just across the table but also across the globe.
As students prepare to live and work in this world, study abroad presents more than a simple opportunity to visit another country. Studying abroad gives students hands-on experiences with other peoples and cultures. It helps students expand their worldview and challenges their perceptions about policies, cultures, and ways of life. And it offers a life-changing experience that can prepare students to be ethical, informed leaders in their neighborhoods, in their careers, and in the world.
Study abroad can be an affordable, manageable option for all Augsburg students. To learn more about the programs for the 2009-2010 academic year, attend the Study Abroad Fair on Friday, Feb. 13 from 11 a.m.-2 p.m. in the Christensen Center lobby.
Studying business in Mexico, as told by Virginia Biorn
Virginia Biorn [pictured left] studied in Mexico last semester as the first Augsburg business student to participate in the International Business and Global Citizenship semester program in Cuernavaca, Mexico. The new program, which will be fully launched in fall 2009, includes two international business courses that meet the requirements for the major, an internship, and one to three Spanish courses that enable students to complete the foreign language requirement.
How has your semester in Mexico benefited you as an International Business major? How has it enriched International Business education?
It has enriched my international business education by allowing me to apply a lot of the textbook definitions. It's allowed me to witness things firsthand and learn in ways that would have been impossible simply out of the textbooks.
I learned a lot about identifying specific work in a culture because, again, you can read it out of a textbook, but most of the international textbooks don't specify any particular culture. I think it is very useful to learn Mexico's aspects because it is so close to the U.S. and there is a lot of business done there and not only cultural but also political and legal differences.
After having completed a semester in Mexico, would you recommend that other international business students participate in the new International Business & Global Citizenship program? If so, why?
Yes, I would. It is almost vital to do a study abroad program, if not in Mexico, then elsewhere because international business is something that is ever evolving and ever changing and it's different with every particular country. As we learned here, it's even different in different states because Mexico is so big and diversified.
Do you think Mexico is a good place to study international business?
Yes, because of NAFTA, which is a huge reason, and because the U.S. has so many business relations with Mexico. It's now a major trading partner; there are a lot of business people here in Cuernavaca, so that's plenty evidence that Mexico is important.
What did you like best about studying in Cuernavaca, Mexico?
First, the weather is fantastic. There are a fair amount of Americans here, which is kind of nice because they work in international businesses, and so they can identify with both ways of life and they've had the opportunity to compare and contrast, and so they are very useful to talk to. There are a lot of smaller businesses or sister companies of bigger businesses here, and that's really nice because usually sister business are easier and more flexible to work with but they still have the bigger business programs and ways of doing things.
What do you see as some of the highlights of your semester in Mexico?
During our weeklong break I went to Acapulco and I went scuba diving for the first time, and it was absolutely phenomenal because it was off season for tourists, so it was a little cheaper and a lot less crowded.
Was your internship here valuable?
The company was Enterprising Solutions Global Consulting. Their product is consulting in microfinance or CSR. I enjoyed doing my internship here not only for the value it will provide on my resume but also for working with a business first hand. Enterprising Solutions isn't a 100% Mexican business – it's more of a worldwide business. So it was interesting to work on an international level like that.
I worked in the marketing department, which was interesting because it was marketing on an international level, which is very different from the national level. Even defining the clients, it was very different because there weren't that many, so it was interesting from that perspective.
Is there anything else you want to say to other international business students at Augsburg?
I would highly recommend the program, and it would be very difficult to go into a career without having any sort of study abroad.