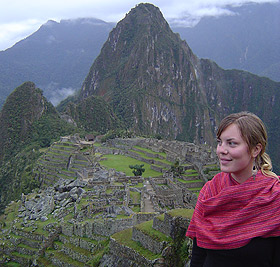 Katie Macaulay '09 didn't know much about the Fulbright Scholarship program last spring. She had heard about the program, but kind of dismissed it as a realistic possibility.
"I thought it was a scholarship of the Ivy League, I thought it was out of reach," Macaulay said. "I'm a small town girl from Minnesota."
But something happened one day last April when Macaulay was studying in Buenos Aires, Argentina. She hopped on her computer, logged in to Inside Augsburg to check her e-mail and stumbled across the story of how fellow Auggies Ashely Stoffers and Erin Olsen had been awarded Fulbright scholarships.
A year later, Macaulay received word that she too had been selected to be a Fulbright Scholar and will spend the next academic year teaching English in Malaysia.
Macaulay, who graduated from Augsburg in December with an International Relations major and minors in political science, history, and anthropology, had been checking her e-mail in hopes of finding out whether she had been selected.
On Monday morning, her mother called from New Ulm and left two messages on her cell phone. The first said a thick envelope had arrived. In the second, her mother said she couldn't help herself and she had opened it.
Macaulay is the second Fulbright winner from Augsburg this year, joining Emma Sutton, and is the fourth Auggie in two years to receive this scholarship. The Fulbright Program, which is run by the Institute of International Education, has sent students across the world to study, teach, or conduct research for more than 60 years. About 7,500 grants are awarded each year.
Macaulay is looking forward to the experience in another part of the world and to learning how to teach.
"I want to get some more exposure and more experience with Asian cultures," she said. "It's an up-and-coming part of the world."
Macaulay applied to go to Malaysia as it is one of the countries where Fulbright scholars aren't required to be fluent in the native language. She also considered Indonesia (where Sutton will teach English) and Hungary.
Macaulay also proved to herself that achieving a prestigious scholarship is something that she could accomplish. After meeting with Dixie Shafer, the Director of the Office of Undergraduate Research and Graduate Opportunity (URGO) last spring, Macaulay spent the summer researching the Fulbright program and deciding where to apply. In August and September, she worked through the application process and on her essay.
"As I was going through the process with Dixie, I learned that while I might not have the background, I do have the foreground."