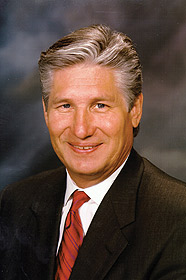 Paul Horgen, Former CEO of Think Mutual Bank in Rochester, Minn. will deliver the second annual Rochester convocation address on Tuesday, May 19 at Bethel Lutheran Church at 7 p.m. This event is free and open to the public.
Horgen completed a 40-year career in 2007 including 21 years as CEO of Think Mutual, the seventh largest bank in Minnesota. His quest for business success started on a family farm in the mid-1960s then took a sharp upward spike in 1969 when he joined the U.S. Army, went to Vietnam, and learned leadership lessons from the ground up.
Simply asking good questions led him to a position in banking and in 1972 to his first CEO job at the age of 24. He held that position with three consistently successful companies for a total of 34 years. Horgen's address to the Augsburg community, titled "A Search for Satisfaction: Can you Find It in Less than 40 Years of Looking?", will draw on his business and personal experiences.
Though he continued his formal education with four years of college, Horgen's career was impacted significantly by the long-term mentoring of two senior scholars, one from Princeton and the other from Harvard. He makes the claim, with supporting facts, that senior executive mentoring is a requirement for business success (if you care about efficiency!). "We are all a bit like a turtle on a fence post; we didn't get here without a lot of help."
Horgen has been married for 38 years to Betty. They have four children and two grandchildren. He is a private pilot, plays golf, rides motorcycles, and loves boats, books, and travel. He is a 1981 graduate of the University of Minnesota–Minnesota Management Institute.