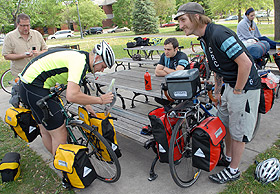 The four bicycles were fully loaded and leaning against a picnic table in Murphy Park on Thursday morning. There were pannier bags stuffed on the front and back of each of the bikes. And before riding away, Tommy Schlaefer, Nate White, Michael Wethington and Jake Quarstad were saying goodbyes to family and friends.
The four—two recent grads and two who will be Augsburg seniors in the fall—are embarking on what will be an interesting summer journey: Ride their bikes to Portland, Ore. in order to gain a better understanding of why that city is considered to be the most bike-friendly in the United States.
Getting to Portland on two wheels, however, isn't exactly an easy or speedy process. The four estimate that they will pedal about 2,000 miles, crossing the Rocky Mountains, which will take about 40 days to reach Oregon. They'll carry all their gear with them, sleep in tents, and deal with the elements along the way.
The group hopes to average about 60 miles of riding per day. When on flat ground, they hope to cover more distance, but there will be days in the mountains when 20 to 30 miles may be a lot. As they make their way through South Dakota, Wyoming, Idaho, and Oregon, they'll pitch their tents at campgrounds, parks and, potentially, in the yards of people they meet along the way.
"We plan on kicking butt on the flat parts," Quarstad said.
Why Portland? And why by bike? Wouldn't it be easier to take the light rail to the Minneapolis-St. Paul International Airport, hop a flight and be in Portland in less than four hours?
Part of the reason is because riding is what they do every day to get around the city. Only one of the four has a car. Another reason is that this is important to them. If they expend the energy and sacrifice for the trip—there is certainly a financial sacrifice for these guys as six weeks on the road means less time to hold down a summer job—they think they will be less likely to give up on the cause when they return. They also think they will be a greater authority on bicycling when they return.
And becoming cycling authorities is what they hope to do.
Since the end of the academic year at Augsburg, the cyclists have worked to arrange meetings with politicians, policy makers, and bike advocates in Portland. One person they are working hard to meet with is U.S. Rep. Earl Blumenauer, who represents a large percentage of the Portland metro area. Blumenauer has worked to secure funding for bicycle infrastructure. The group has contacted Minnesota Sen. Amy Klobuchar's office in an effort to help arrange the meeting and has been in contact with the office of Minneapolis mayor R.T. Rybak.
The primary lesson they want to learn is about policies and strategies that have been successful in Portland and can be applicable to Minneapolis. What can be brought back that is both effective and fiscally responsible? They hope to gather ideas for 'progressive bike legislation and infrastructure change.'
"What are initiatives that are working?" said Wethington, who went to Portland and Vancouver, British Columbia, a year ago as part of the "Sustainable Cities" trip. "What else can Minneapolis do?"
The group is also making it easy for people to follow along with the trip through social media. A blog has been set up at: ped4progress.wordpress.com. The blog features a short documentary on the trip by film major Jeff Swenson.