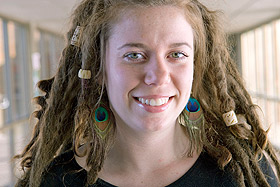 Wow! I wish I could say that 3 days in everything has been perfect but unfortunately we just experienced an earthquake, a whopping 7.4. I was sitting up in my room on the 7th floor as the building started to shake and the walls cracked. I ran out into the hall and the program director was staying in the room right next to me and we took shelter in a doorway of the hall until it was over and then we ran down the stairwell, there was some girl flopping down the stairs in stiletto heels that I really wanted to run over so I could go faster. There was no major damage at the hotel or anywhere else, or at least it hasn't been reported yet. My stomach is still in knots, I want to sleep in the lobby tonight so I can run outside if there is an after shock. This was the first earthquake I have ever experienced and I hope it is my last. Pray for me. Some of the ETA's were fascinated and thought this experience was so cool since they've been in an earthquake..
In a more positive light, only 3 days in and I've already learned so much and feel more and more honored each day that I hear about all the things I get to do and all the people I am majorly going to impact. The Fulbright program in Indonesia is the third largest one out of all 130 countries where this program takes place. As a group, roughly, we will teach English to 12,000 students.
In addition to teaching, we have the opportunity to create and star in radio and television programs that teach English; we met with the media man from the US Embassy. There is also going to be a competition between all 32 schools that all the ETA's will teach at; a words competition where we will decide the theme and they can write a song, poem, essay, dance according to that theme. I will travel with my winning student back to the city of Jakarta where all the finalists will compete, and the winner receives a full scholarship to an American University-truly a dream for these kids.
We've also been appointed to recruit people/teachers/students to apply for various scholarships. Scholarships for the working class to go to community college, for Indonesian English teachers to go to an American university and take English classes, for high school students to go to an American university, and the list goes on. We have to judge based on one's skills if I think they are qualified and have a chance at whichever scholarship. I loved being the peer advisor in the study abroad office at Augsburg, and now I feel like my roll in international education was just upped tenfold. Everyone here dreams of going to the States, and most Indonesians don't have any idea about these opportunities. And now I can potentially change their lives.
Jakarta as a city is crowded, polluted, intense, and the people are so amazingly nice and so fun to interact with. Traffic is crazy, there are no lanes or crosswalks, thank gosh there are at least stop and go lights. They have over 130 malls here in Indonesia where you can buy almost anything. And they are so crazy annoying; filled with weird smells and up and down escalators that are not anywhere near each other, at different random spots on the floor. Myself and one other ETA got lost for an hour in a mall yesterday; nice bonding experience.
The food is so good and cheap; yesterday my dinner cost $1.50. Everywhere we go there is fresh guava and pineapple juice my favorite! Cabs are also like a few dollars for really long distances, so that's nice too. Basically everything is so cheap and according to Indonesian economics "I" am a millionaire; I always wanted to be a millionaire, just never thought it would happen.
I've been learning about where my school is. I'll be living in an ORANGUTAN NATIONAL PARK, yup that's right be jealous. This is also the reason for such tight security measures.
Well that's all for now. All the ETA's are going out to dinner tonight as a group to bond our today's experience and support each other. We are going to a restaurant where we are gonna eat goat lungs, chicken necks, cow intestines, and we'll see what else. I'll let all ya'll know how it tastes!