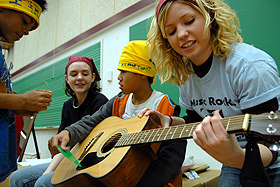 Music therapy alums, their families, and friends gathered last weekend at a luncheon and presentation to celebrate the 35th anniversary of Augsburg's program. They heard Dr. Timothy Culbert, medical director of Integrative Medicine, Children's Hospitals and Clinics of Minnesota discuss "Exploration of Integrative Health Care Using Music." Dr. Clive Robbins, known as the "father of music therapy," was the guest of honor. Children at the celebration enjoyed hands-on exploration of a music instrument.
Music therapy as a discipline dates back to post-World War I and World War II when it was observed that music used with injured soldiers in hospitals had far greater effects than just entertainment. The benefits of music to promote healing and wellness have now been well documented and the field is a recognized component of complementary medicine.
Augsburg's music therapy program began when Music Department chair Leland B. Sateren '38 asked professor Robert Karlén to attend a conference in this emerging field. Karlén was impressed and invited Roberta Kagin to serve as director of a new music therapy program, which she continues to lead.
Hundreds of music therapy alumni now practice in a variety of medical settings—hospitals, clinics, day care treatment centers, rehabilitation centers, hospice programs, correctional facilities, schools—and provide therapy for illness, brain injuries, developmental disabilities, hospice, Parkinson's disease, and for other reasons.
The music therapy program is rigorous. Students take a four-year liberal arts program plus a six-month intensive internship with a music therapist, and then must pass a national exam to gain certification in the field. While music therapy is built on engaging forms of creative expression, it was the first Bachelor of Science degree program at Augsburg, requiring a grounding in medical science.
Augsburg's partnerships include clinics in the Twin Cities for on- and off-campus practica experience, sites around the country for internships, and a sister college in Norway. Each year Augsburg hosts Metro Arts Festival day for Twin Cities students with disabilities. Future plans include a graduate degree in music and medicine.
Read more about Augsburg's Music Therapy program, students, and activities.