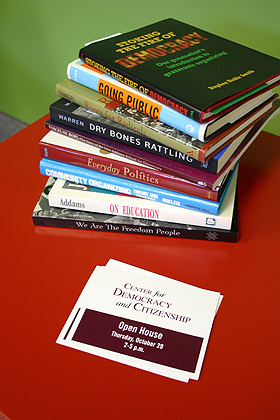 No, Augsburg is not opening a research facility for the Centers for Disease Control.
Augsburg's "CDC" is the Center for Democracy and Citizenship, a former affiliate of the Hubert H. Humphrey Institute of Public Affairs at the University of Minnesota. The Center moved to Augsburg last July when the partnership was approved the Board of Regents.
The Center for Democracy and Citizenship has two locations: one in the Baker Community Center on St. Paul's West Side, and the other in the ADC Business Center on the corner of Riverside and 20th Avenues. The Center will host an open house on Thursday, Oct. 29 from 2-5 p.m. at their Riverside offices.
The Center for Democracy and Citizenship focuses its work on building and sustaining democracy through community-based civic engagement initiatives including:
– Public Achievement is a youth civic organizing model that engages young people in public problem solving.
– The Jane Addams School for Democracy brings immigrant families, college students, and other community members together to do public work and learning on St. Paul's West Side.
– The Warrior to Citizen Campaign challenges Minnesotans at the community level to support returning veterans and find ways to tap the new skills and experience they have to offer as citizens.
Harry Boyte, co-director of the Center, says they were impressed by Augsburg's inclusive, welcoming approach to students from different backgrounds. "Augsburg deeply values the democratic values of diversity and community engagement," Boyte says. "The dominant trends in higher education are in the other direction, but diversity in education and public life will help us produce the best citizen leaders."
The Center's current focus is on education and reform of the educational system. "We want to help expand the definition of student success so that it's not based on standardized tests and grades alone," Tveit says. Several of the Center's staff are also working on a Bush Foundation committee on teacher education with Gretchen Irvine, assistant professor of education at Augsburg.
Next week the Center for Democracy and Citizenship will be involved in two important events in which the Augsburg community is invited to participate. With the Citizens League, Minnesota Campus Compact, and the Minnesota Association for Volunteer Administration, the Center will sponsor a discussion on civic engagement and the Minnesota Civic Health Index. "The Next Minnesota Miracle: Building a Living Democracy for the 21st Century" will be held Monday, November 2 at 4 p.m. at Markim Hall on the Macalester College campus.
On Tuesday, Nov. 3, Boyte is moderating a webinar on how civic agency can be an organizing theme for the future of higher education. "Agents and Architects of Democracy: The Struggle for the Future of Higher Education" will take place from 2-3 p.m.
Find more information about both of these events on the Center for Democracy and Citizenship website.