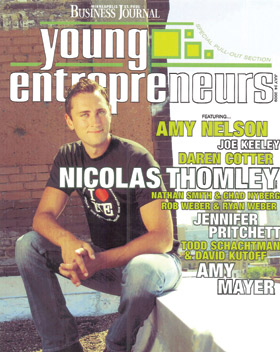 Even though he's just entering his thirties, Nick Thomley will have a lot to share with other entrepreneurs when he speaks on Thursday as part of the Strommen Executive Leader Speaker Series. His presentation will take place from 5:15-6:30 p.m., in Johnson Conference Center (Room 100), Oren Gateway Center.
In the past 10 years, Thomley has founded Pinnacle Services, a company that provides services to people with disabilities and seniors. He has grown its annual revenue to over $9 million, launched a separate company to provide complementary fiscal services, and moved his business into a new building.
His personal kudos include Inc. magazine's "30 Under 30: America's Coolest Young Entrepreneurs," Minneapolis/St. Paul Business Journal's "40 Under 40" Top Business Leaders, and inclusion in a book, Upstarts! How GenY Entrepreneurs Are Rocking the World of Business and 8 Ways You Can Profit from Their Success. His company has been recognized for best practices. And he's one of 60 selected for the "Birthing of Giants" executive entrepreneurship program that seeks to identify the next Bill Gateses and Richard Bransons.
Here's the rest of the story. Thomley's passion is serving people with disabilities, helping them to achieve their full potential and realize their dreams. That, more than any dreams of big profits, fuels his energies.
During high school, Thomley found inspiration for his vocation by working with disabled residents in assisted living. By the time he returned from Kuwait in the Marine Corps, he also understood the impact of stress disorders on veterans' lives and saw the lack of services available for them.
So, at age 19, he founded a company (with loans from his grandmother that included collateral on her house) to provide vocational, residential, and financial management services to people with disabilities and seniors. Their first contract was with Hennepin County. Six years later, a human services employee at the county attributed Pinnacle's success to "exceptional client service."
What Pinnacle has developed demonstrates its quest for innovation. For instance, rather than arranging for people with disabilities to work in sheltered workshops, Pinnacle provides training and support to help them get employed competitively in the market. In a 2008 interview with Upsize Magazine, Thomley said he sees his work as part of basic civil rights, a fundamental right that all people should be included.
Thomley is no ordinary CEO, as his business card attests—"Nicolas Thomley, president and secret weapon." Pinnacle's company culture is also out of the ordinary and appeals to its mostly 20-something employees. The new headquarters features a large foam pit with a full story drop from the upper level and a Velcro climbing wall. Last November, the company treated employees to a Spa Day in gratitude for their hard work during the year.
Oh, yes. And during all of this entrepreneurship, Thomley completed his BA in organizational management and communications from Concordia University and an MBA from Augsburg.