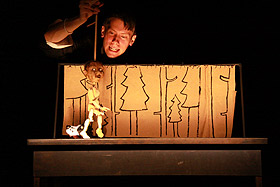 Kyle Loven '06 has called a few places "home." He moved from the charming town of Wilmar, Minn. to Minneapolis to study theatre and art history at Augsburg. After college, he spent some time in Europe before settling in Seattle, Wash. And on March 19, Loven will return to his Twin Cities home to perform my dear Lewis, his one-man show about memories.
my dear Lewis will be part of SEEDS, presented by Open Eye Figure Theatre. SEEDS features the work of emerging artists who are supported by the Henson Foundation. Performances are Mar. 19, 20, and 22 at 7:30 p.m. and Mar. 21 at 4 p.m. 
ABOUT THE SHOW:
my dear Lewis
Created and Performed by Kyle Loven
Music Composed by George Maurer
Video Assistance by Andrea Steudel and Elise Langer
The show is about both personal history and our memory of history. my dear Lewis explores the various means of documentation and objects we all keep that help us preserve these memories.
Lewis is at the end of his journey. His final task is to look back over a life lived. What unfolds is a pilgrimage made by his mind and body into the dark and dusty corners of memory. By looking through his accumulation of boxes, Lewis encounters significant relationships and events that have made him who he is. Objects, video, music and puppets unexpectedly combine in this one-man show.
ABOUT MY LIFE SINCE AUGSBURG:
While still attending Augsburg, I interned with a remarkable theatre company, Michael Sommers and Susan Haas' Open Eye Figure Theatre. I spent two and a half additional years in Minneapolis after graduating continuing to work with Open Eye and also performing with Theatre de la Jeune Lune and The Children's Theatre Company. The majority of my time, however, was spent learning from the important work being made by Michael and Sue. Many of the skills and sensibilities I have as an artist were born and nourished with them, after the groundwork had been set by the Augsburg Theater Department.
I've had the opportunity to work with and learn from numerous accomplished and amazing artists in the past few years. While the majority of this time has focused on working on the art of other companies, I am balancing my current time between creating my own work and continuing to learn from more experienced creators.
ABOUT COMING BACK TO MINNEAPOLIS:
It means a lot for me to bring my work back to Minneapolis. It means even more to be performing my work at Open Eye. my dear Lewis actually developed out of Open Eye's Toy Theatre After Dark series. To bring the piece back to its home and a home of mine is such an honor.
The production has had two runs in Seattle (Nov. 2009, Feb. 2010) and I'm thrilled to be taking it on the road. I hope to continue to bring my work back to Minneapolis and work with Minneapolis theatre companies in the future. It has and will always be a home of mine.