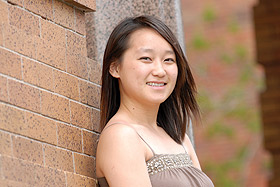 This summer, PaDao Yang will not be spending her days at the beach or working a part-time job. Instead, she'll be giving back to her community by sharing her passion for the arts with young Hmong refugee students.
Yang, junior sociology major from Brooklyn Park, first heard about the Phillips Scholar program when she was in high school in the Upward Bound program. Then at Augsburg she met Nou Chang, a past Phillips Scholar who was sharing her experience with a group of students.
"We talked about things that are true to the heart," Yang said. "And then I decided that through this program I could help the youth of the Hmong community."
Yang and Marisol Campusano are Augsburg's current Phillips Scholars. The Phillips Scholar Program is funded by the Jay and Rose Phillips Family Foundation in support of Minnesota private college students who dedicate a portion of their lives to community service. This Friday, Apr. 16, Augsburg is hosting the 2010 Minnesota Private College Phillips Scholar recognition luncheon.
Yang will use her interest in the arts and knowledge of Hmong culture to work with 15 refugee students at New Millennium Academy, a Hmong charter school. This summer, she will help them learn how to express themselves through spoken word, poetry, dance, and Hmong needlecrafting.
"There is an important need for Hmong youth," Yang says. "In the Hmong culture, we have always used art to express ourselves." Yang, who has been dancing since she was 12 years old, will teach Hmong dance forms to the students.
She has also been working with local artists and several arts organizations including the Hmong Arts Connection, the Southeast Asian Community Council, and the Center for Hmong Arts and Talent (CHAT). Students will showcase their work at the CHAT festival in St. Paul.
Yang says she is in need of donations of arts and crafts supplies including notebooks, pencils, pens, or needlework fabric. She can be reached at yang1@augsburg.edu.