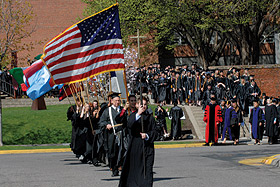 When hundreds of Augsburg College students don caps and gowns for either the May commencement for Day College and Physician Assistant students or the June commencement for Weekend College and remaining graduate program students, the focus will be on civic engagement.
The Commencement speaker on Saturday, May 1 will be Governor Tim Pawlenty. In addition, an honorary Doctor of Humane Letters degree will be conferred upon Father Fernando Cardenal, a Jesuit priest who has committed his life and work to improving the lives of the poor through education and basic rights.
Father Fernando Cardenal was born in 1934 in Granada, Nicaragua, and studied classic humanities and philosophy at the Catholic University of Quito, Ecuador and theology in Mexico. In 1967 he was ordained as a Jesuit priest. Shortly thereafter, on an extended visit to Medellín, Colombia, he first confronted systemic poverty and social injustice personally, which deeply affected him and led to his commitment to social justice. In 1979 he coordinated the National Literacy Crusade in Nicaragua that taught hundreds of thousands of peasants in just a few months to read and write.
Father Cardenal became minister of education in the Sandinista government, but in doing so put himself in conflict with the Catholic Church and was expelled from the Jesuit order. Twelve years later, when he backed away from government policies to stay more focused on core issues of social justice, he was allowed to return to the order.
In 1999, he became director of Fe y Alegría, a network of 22 Jesuit schools in Nicaragua that work to offer education and employment opportunities throughout the countryside and regions. His memoir, Junto a mi pueblo, con su revolucíon (Together with My People, with Their Revolution) was published in 2009.
Father Cardenal will speak about his vocational journey on Friday afternoon at 2 p.m. in the Century Room.
The Commencement on Sunday, June 27, will graduate students in Weekend College, Rochester, the partner hospitals programs, and the five master's programs of education, leadership, nursing, business administration, and social work. The scheduled speaker is Senator Amy Klobuchar; Peter Heegard will receive an honorary degree. He is a distinguished business and civic leader who founded and directs Urban Adventures, a community organization that educates young leaders in business about the issues and challenges of building healthy communities.
See a full schedule of events at the Commencement website.