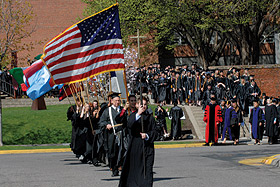 On Sunday, June 27, we celebrate the second of our two commencements for 2010, both highlighting this year's theme of community and civic engagement. For this commencement, a total of 277 undergraduates and 215 master's degree students are eligible to graduate. This includes 199 weekend and evening students, 66 Rochester students, and 12 students in the partner hospital program, plus graduate students in five programs—10 in the Master of Arts in Education program, 24 in Master of Arts in Leadership, 18 in Master of Arts in Nursing, 112 in Master of Business Administration, and 51 in Master of Social Work. This year's student representative who will speak on behalf of the Class of 2010 is MAL student Mary Brown.
The June speaker is Congressman Keith Ellison, whose district includes the Cedar-Riverside neighborhood. The commencement also will feature he conferral of an honorary degree on Twin Cities business leader, Peter Heegaard, the founder of Urban Adventure. Urban Adventure is a community organization that educates young business and professional leaders about the issues and challenges of building healthy communities.
The Richard J. Thoni Award will be presented to a graduating weekend student who has demonstrated a dedication to the kind of community involvement characterized by Rick Thoni, founder of Weekend College, who retired in 2007 after a long and remarkable career at Augsburg.
See a full schedule of events at the Commencement website.
Inside Augsburg showcases the experiences of Augsburg College students, alumni, staff, and faculty. Send your story idea to marcomm@augsburg.edu.