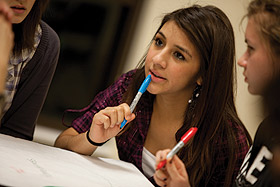 Michael Newman has spent more than a decade with the Travelers Foundation. In that time, he has spent far more time fielding calls from organizations and institutions looking for funding than he has approaching potential partners.
But that's what he did when the Travelers Foundation was looking to add another partner to its Travelers EDGE program, an acronym that stands for Empowering Dreams for Graduation and Employment.
The work in Minnesota focuses on low-income, first-generation and students of color in the St. Paul Public Schools. The goal is to help those students be well prepared for college, help them gain access to college, persist and graduate. At the same time, the program also seeks to introduce the financial services and insurance industry to the students as possible career options.
"The question we asked our partners was, 'Who else is doing this? Is there another college or non-profit that is doing this work?'" Newman said. "It was particularly obvious that Augsburg had been and continued to be a partner with them. It was very consistent across the board."
That work is part of the reason why Travelers approached Augsburg unsolicited to join the EDGE program.
"I can count on one hand the number of times I made a call like the one I made to (Augsburg Director of Corporate and Foundation Relations) Laura Roller," Newman said.
The result is that the Travelers Foundation supplied Augsburg with a grant of $44,000 to launch the Travelers Scholar Program. Based upon the first-year results of the program, there is the possibility that the grant will continue for several years.
Augsburg is one of only five Minnesota colleges or universities that Travelers is partnering with and is the only private college in the state. Other partners include the University of Minnesota's Carlson School of Management, Metropolitan State University, Inver Hills Community College and Century College. Travelers also works with two groups with whom Augsburg has good relationships including Admission Possible and the Page Educational Foundation.
Part of the reason why Augsburg was invited was because of the intentional work the College has done around diversity.
Eligible Augsburg students will be able to apply to become Travelers Scholars. In addition to receiving a $5,000 scholarship, they will have the opportunity to be in a job shadowing and mentoring program with Travelers employees. Travelers Scholars will be required to take classes in areas ranging from business writing to insurance.
The program won't be exclusively for business majors. It could also include students studying subjects ranging from mathematics to communications.
The hope from Travelers is that the program will help produce a talent pool that is both diverse and has been exposed to the insurance industry.
"We'd like to increase the number of students qualified to work in the insurance or financial services industry," Newman said. "We'd like some of those students to come from Augsburg. If they don't work for us and they go and work for Ameriprise or someone else, we've still done a service to the community and a service to the student."